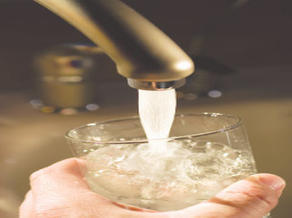 The Catalina Island Chamber of Commerce & Visitors Bureau recently invited business owners, managers and other interested parties to join in a Fixer.
The Catalina Island Chamber of Commerce & Visitors Bureau recently invited business owners, managers and other interested parties to join in a Fixer.
Fixers are like Mixers, but instead of networking and showcasing a business they offer tools/solutions for addressing a need.    With Stage 3 water restrictions in place,  the Fixer held Oct. 5 provided a forum for sharing the hacks, services and  tools that a business can put into place to save more water, source more water or address the restrictions in place.    About 21 representatives of Hotels, Vacation Rentals, Restaurants and Southern California Edison were on hand as well as assorted members of the business community that have come up with inventive means of addressing water conservation, delivery systems and wastewater capture.
Some highlights included:
• According to Mike Cassidy of North Wind refrigeration Ice Machines waste as much as 18 gallons of water per 100 pounds of ice.  Diverting that wastewater to buckets or storage barrels allows for use to mop floors, water plants or clean pet areas.
• A commercial Air Conditioning condenser can produce as much as 10 gallons a day in condensation in summer that can also be captured for the same sorts of uses.
• According to Rock Gosselin of Catalina Laundry and the Avalon Hotel, a new high efficiency front loading washing machine can operate with as little as 3 gallons of fresh water vs 15 to 35 gal per load on older top loading models.
• A ductless dryer system can capture condensation like the above units, but at a smaller amount.
• Water captured through the above means could be shared with neighboring businesses and households from storage containers or used to water plants in public areas.
• Shower heads that exceed the savings currently offered by those provided by SCE are available and use as little as 1.3 gal per minute.
• Condensate Water Heating systems will produce up to 5 gallons a day on commercial installations.
• Water delivery of 5 gallon containers to homes and businesses is available on the island and reduces the amount of plastic waste by reusing the same containers many times over.  The water comes from the mainland and is sold/delivered by Catalina Beverage Company.
• Non-potable water totes previously available to contractors or for landscape irrigation are not currently available.  A program is in development to reinstitute the program soon.
• Empty water totes are available for purchase at Pebbly Beach Building supply.
• Rain barrels are available for purchase at Chet's Hardware and they can also be sued for greywater systems.
• Residential and Commercial laundry services are available at Catalina Laundry and use is less than 1 gallon of fresh water per lb of laundry due to on sight recycling.
• Atmospheric Water Generation systems can produce from 5 to 3,000 gallons per day of potable water at a cost of $.01 to .30 per gallon and small units cost around $1,200.
• GAIA Water Consultants have worked with SCE in other communities on rebate programs for energy efficient appliances and is willing to do so for water efficiency as well.
• Hotels are providing welcome letters and reservation confirmations to guests that remind them to sing shorter songs in the showers, consider skipping a housekeeping visit and use makeup removal kits to conserve water.
• Chet's hardware is now carrying shower timers that remind users to limit the use of water using an hourglass timer.
• Organic soaps should be used if recycling grey water to gardens or pet areas
• Plumbing codes and regulations will be changing as of January 1, 2017 so new programs and systems will likely be available after that date.
• Sub-meters on multi-unit facilities are a great way to monitor waste or incent conservation.
• Recirculating Hot Water pumps will eliminate the waste of water during the warm up phase of a shower or laundry.
• Doing laundry and dishes after 9 pm will reduce demand on reservoirs as desalination units meet our peek demand during daytime but are under utilized vs capacity at night.
• Businesses that are unable to meet the stage 3 limits due to substantial changes in operations over the baseline period are encouraged to apply for a variance with SCE.
For more information about the businesses and services shared at the Fixer, please contact the Catalina Island Chamber of Commerce & Visitors Bureau at 310.510.1520