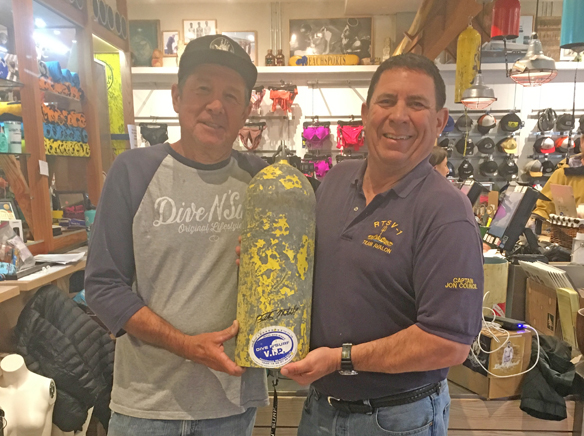 Saturday, Feb. 23 will mark the 38th Annual Avalon Harbor cleanup on Catalina Island. The event, which typically attracts over five hundred scuba divers to the town of Avalon is a well-established tradition.
Tom and Jill Boivin and their team of volunteers grabbed hold of the cleanup baton nineteen years ago and literally ran with it. They work tirelessly in conjunction with the Catalina Conservancy, Conservancy Divers, local Dive shop owners, their staffs, and the Hyperbaric chamber facility at the isthmus, to coordinate and facilitate all those who wish to participate in the dive event each year.
The opportunity to dive within Avalon Harbor (which is otherwise closed to recreational diving) could be likened to moths reacting to a porchlight, it's simply too alluring to pass up.
Each year these diving volunteers remove an array of debris which has found its way onto the seafloor, and in doing so, the tradition of the harbor maintaining its own allure as a clean and pretty place is kept intact. As always, a grateful community extends welcoming arms and warm regards for all who utilize their skill sets underwater on behalf of this small island. Thank you.
Catalina Island, because of its pristine environments both above and below the tideline has a long and impressive history steeped in tradition when it comes to diving. Most of the early pioneers in breathold, helmet and certainly scuba systems can easily trace much of their heritage directly to Southern California waters, and the jewel among those waters was located off the shores of Catalina.
California, particularly Southern, along with Catalina island has been a diving Mecca for generations. In 1933, the world's first diving club was formed well before the advent of scuba systems (which made their way from France into North America in 1949). That early group of breath-hold divers known as the San Diego "Bottom Scratchers" often traveled to Catalina to hunt fish, lobster and abalone.
The Bottom Scratchers were, within the next two decades, joined by 131 other dive clubs in California. By contrast, the east coast produced 32 dive clubs in the same timeline with 24 of them centered in Florida.
So much innovation in equipment development from masks, fins, regulators and the like were items which evolved through advances which had often been brought forth by California divers who conceptualized, created or improved these inventions because they envisioned an adjustment, a tweak in design over what was previously available to them. These early innovators helped push forward a blossoming industry which today in the United States alone, enjoys an $11 billion market share.
Two of those pioneering innovators were Billy and Bobby Meistrell. The Meistrell twin brother's family moved from the midwest to Torrance, Ca. in the mid 1940s and the boys quickly adopted a California beach lifestyle, they both became well respected L.A. County life guards and took up surfing and diving as their pastimes.
By 1953 they borrowed $1,800 from their mother to buy into a little dive and surfing retail shop with fellow waterman Bev Morgan. Their first day open in Redondo Beach, the grand total sales for the day from the new "Dive n Surf" shop was 15 cents for a magazine. Years later, Bobby would recall that the brothers nearly soiled their swim trunks when they realized how many decades lay ahead in paying back mom.
While Morgan was focused on the potential for scuba equipment to take hold in the commercial diving sector, the twins had embarked on their own project which was to create diving and surfing wetsuits out of a new insulating material which was being used in household refrigerators. That material? neoprene rubber sheeting.
Within just a few years with plenty of trial and error, or perhaps more error than trial, they finally had produced a suit that didn't have seams which blew out every time the wearer moved and was custom tailored to minimize the amount of water that could slosh around against the skin and draw off the all-important body core temperature.
When asked why their suits were in such high demand from the surf and diving community, the answer the brothers gave was that they had been custom tailored to keep you warmer, to fit your body like a glove. At that moment, a product brand name was born.
Over the coming decades Bev Morgan and the Meistrell brothers became iconic legends in both the surf and diving industries and Bobby and Billy became the only men in history to be inducted into the Life Guarding, Surfing and Scuba diving halls of fame. And that little wetsuit company Body Glove? … over the past decade, worldwide sales exceeded just over two-hundred million dollars annually. It's safe to say that momma Meistrell invested well.
The Dive n Surf shop still operates today, although all three founding members have passed on. Billy Junior and several other Meistrell family members now carry on the family legacy. Billy says that Catalina island has traditionally been their family's home away from home, they love it here.
As a sort of hobby, Billy Jr. makes beautiful bells out of old scuba tanks and the older steel versions have a tonal resonance reminiscent of an ancient Asian temple bell. Two of these Bells hang just outside the entry to their shop in Redondo and Billy encourages everyone who visits to ring them for his dad and uncle. Billy says; "when you ring a bell for a fallen diver it's a message sent topside for them"… I like that.
Recently, Billy made one of these bells and gifted it to the Avalon Diving History Exhibit located on the ground floor of the world-famous Casino building near the dive park at Casino Point on Catalina Island. As tragic circumstances would dictate, two local divers and Avalon Fire dept reserve firefighters Tim Mitchell and Charles Nash each had their lives taken in very untimely fashion.
Mitchell, who was also an Avalon Harbor officer, sadly lost his life during a severe winter storm while performing those duties. Nash, just recently fell victim to health related complications and his death stunned our entire town. Both men were well respected members of our island community and are deeply missed by all who knew them.
If you happen to be walking past the Avalon Diving History Exhibit, please, by all means, ring the old tank bell to remember and pay tribute to Tim and Charles, send them a message topside, it would be a fitting way to honor a pair of fallen divers, and a good way for a new tradition to begin.