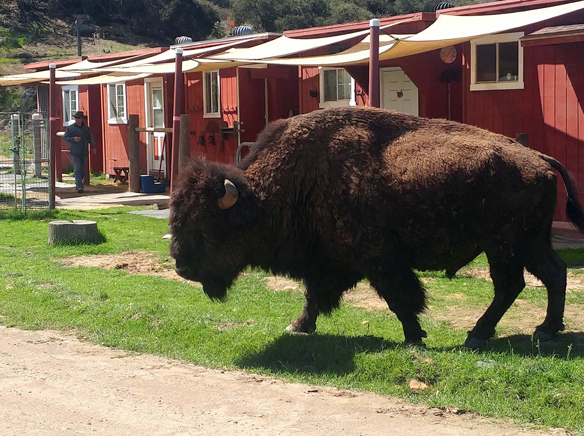 A 64-year-old Catalina Island resident is recovering this week from very serious injuries received after being gorged in the back by a bison near Little Harbor campground.
A spokesman for Capt. John Hocking at the L.A. Sheriff's station on Avalon confirmed the incident occurred on March 18 but referred further questions to the Santa Catalina Island Conservancy.
A SCIC spokesman said the attack occurred at 2:10 p.m., March 18, when a 64-year-old Catalina Island resident was injured by a bison in the Little Harbor parking area. City officials identified the woman as Catalina resident Melinda Sessions.
According to reports, while Sessions was taking photos of the animal, she realized the animal was approaching her. She turned and fled away from her nearby vehicle and was struck in the right side of her back by the bison.
She was given medical attention on site and at 3:30 p.m. was airlifted to mainland Harbor-UCLA Medical Center, following standard LA Fire procedure for Island injuries.
Because the incident appears to be unprovoked, the bison was euthanized following the encounter.
The most recent attack reinforces the need for island visitors to understand bison safety regulations before encountering them.
The Catalina Island Conservancy recommends maintaining a minimum distance of 100 feet from bison at all times. Bison can accelerate quickly to 35 mph and jump more than 6 feet high. Bison may appear docile but can become instantly defensive if they feel threatened. Campers who feel threatened should identify an escape route and place a large object (tree, rock or vehicle) between themselves and the bison.
Other safe practices include:
• Keep within eye contact at all times with bison.
• Try to make noise (talking) when hiking to avoid suprising a bison.
• Avoid female bison with calves, they are extremely protective of their young.
• Bison often don't respond well to dogs or cyclists. Keep dogs on a leash and walk your bike near a bison.
• When possible, stay out of a bison's way.