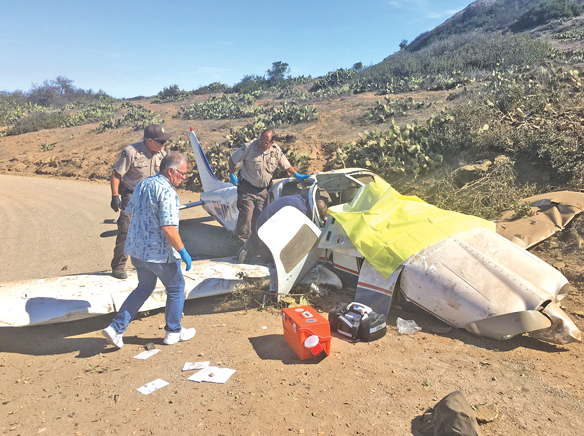 Authorities say three people were seriously injured when a small plane carrying workmen to the island skidded off the runway and plunged six hundred feet to the ground early Wednesday morning.
The Catalina Island airport is called the "Airport in the Sky" and was literally constructed by flattening a mountain. If planes go off the end of the runway, the drop is about 200-250 yards straight down.
Capt. John Hocking of the L.A. Sheriff's Station said police and fire responded immediately after being notified of the crash about 9:40 a.m. He said the Federal Aviation Administration was notified by the sheriff's department and was aware of the crash.
"The pilot attempted the land but went around one more time," said Hocking. The plane, a Piper Saratoga, then attempted to come in for a landing but failed to stop in time, going over the edge of the runway, apparently falling "belly first" all the down.
The plane gyrated wildly once it hit the ground near El Rancho Escondito, a highway that connects the airport with other remote parts of the island. The plane bounced off a ledge near the bottom of the hill, made a sharp turn to the left and ended up directly on the roadway.
Hocking said the plane hit the ground with such force that the wheels were torn off the plane, one wing was torn off and fuel began spewing everywhere but did not catch fire.
"Those guys are truly lucky to be alive," said Hocking. The Catalina Fire and Rescue Department did a remarkable job of keeping the fuel from igniting while rescuers attempting to pull the pilot to safety, he said. Although "beat up pretty bad," Kim and Burt were able to escape the crashed plane on their own and were found sitting on a ledge when authorities arrived.
The pilot was identified as Edward Martell, 71, of Fountain Valley, and had to be extracted from the wreckage, he said. Also injured were Christopher Burt, 30, of Anaheim, and Nathan Kim, 52, of Chino Hills. Paramedics treated the men on the scene and they were immediately airlifted off the island by a helicopter operated by L.A. County Fire Department.
The men were taken to Harbor/UCLA Torrance Medical Center. Martell and Kim were listed in critical condition while Burt was in stable condition.
Hocking said it is believed that the pilot was bringing the two men to the island to install or repair an antenna used in radio transmissions.
The National Transportation and Safety Board is expected to investigate the crash to determine the cause of the accident along with the Federal Aviation Administration and the Los Angeles County Sheriff's Department Aero Bureau.
Following the evacuation of the passengers, the plane was hauled back up to the airport awaiting NTSB investigators, Hocking said.