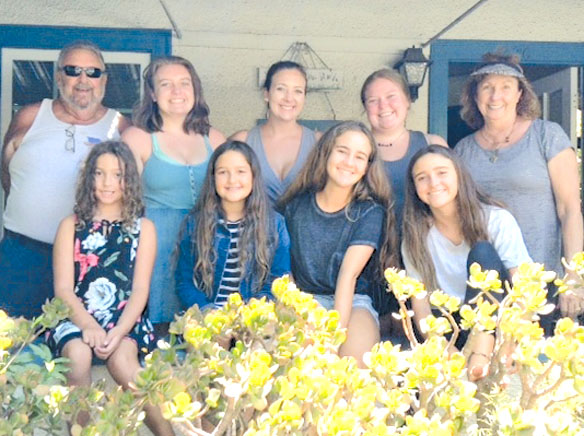 By Terry Dunlavy
For The Islander
Catalina Island has no shortage of reunions probably every week of every year, but this last weekend brought a particularly fun and a bit different kind. My dear friends since high school, Barbara and Bill Close from La Mirada, arrived with their brood for what we were calling the 7 Granddaughter Reunion.
This all started back in the 1970's when Barbara's parents took each of her daughters on an individual "Grandma-Grandpa" mini vacation when they turned 7 years of age. The destination was always Catalina Island where they would dote on that one child for the entire weekend with fun food, miniature golfing, arcade trips and whatever fun things were happening on island at the time.
Becoming grandparents themselves, Barbara and Bill carried on the tradition with all seven of their granddaughters starting in 2004, as each one turned 7. Last year in 2017 they completed the 7th with the youngest granddaughter Sawyer. The plan all along had been when all the one on one mini-vacations had been completed to bring all the granddaughters together for a reunion, and 14 years after the start it happened this last week.
Grandparents Bill and Barbara arrived with the Walker granddaughters Sydney now 21, Jordan now 19 and Caysey now 16, and the Juncaj granddaughters, Madalyn now 14, Taylor now 12, Camryn now 9 and Sawyer now 8. Greg and I have been fortunate enough to share this ongoing project since the beginning by being the greeters at the boat, doing some transportation from the boat to my apartment or a hotel for their individual stays, and catching at least one meal with the trio on each visit.
During their 72-hour reunion they were able to pack in quite a bit including a Grandma Barb custom designed scavenger hunt incorporating items and places all of the girls had seen on their individual trips over the 14 years. The cash prizes for the scavenger hunt were quickly spent at another staple of each ones visit, The Arcade. In addition to a barbecue night, and a "girls cook dinner" night, there was the reunion miniature golf tournament, the obligatory funny hat and souvenir shopping, and the only two who had missed it on their first trip, Maddy and Sawyer, were able to do the parasailing, so now all seven have seen Avalon bay from way above the water.
Summing it all up Grandma Barbara said, "we've all been excited about planning this trip ever since the first time in 2004. Now, it has really happened. WOW!! What a blessing! "