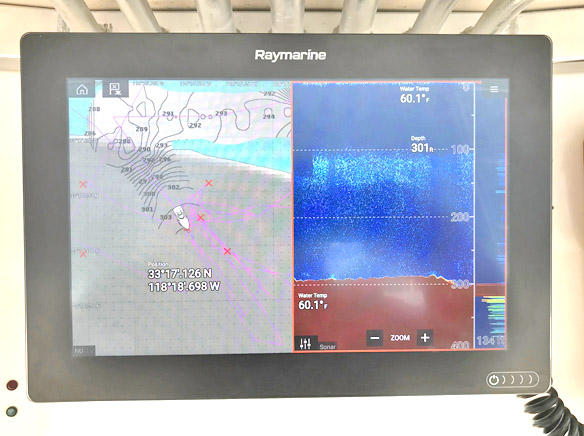 Afishinado was custom-built for me in 1998 by a group of guys then known as Canaveral Custom Boats.
Their approach to boat-building was old-school. When I asked about their warranty, they said, "For as long as you own the boat, no questions asked."
The company has since migrated into new lines of business with a new name, so I figured that was the end of my warranty … not so, I discovered. I ran into the owner at a boat show after the change and he assured me, the warranty is still good and I will never have to worry about it. He used the word "bullet-proof" to describe their method for laying up a hull and constructing the superstructure of a new boat.
Yesterday I went out to do some fun fishing with Charlie. I had not been at the helm of Afishinado for a few months, and I have to agree with the builder, that boat is bullet-proof. She is built like a tank.
In the 20 years I have owned her, I have gone through numerous configuration changes which mostly reflect my fishing preferences.
Originally I had her built to take me off shore in search of tuna and marlin. She excelled at that.
Then I got interested in Cabo San Lucas, so I made some adjustments to her storage configuration, adapted a fuel system to increase my range, added a high capacity bait system and built in a nearly full-sized refrigerator.
Our trip to Cabo went smoothly.
We literally had all the conveniences wrapped into a nice tight 40-foot package.
The time spent in Cabo chasing big fish and competing in tournaments will always be a part of my life, but, times change.
Afishinado has since gone through a reconfiguration as a charter boat.
It is amazing the number of things that you do not need on a boat when it is strictly for day use. Refrigerator? Now it is a storage area. Genset, currently in need of repairs. Sleeping quarters? Now hold rods and fishing tackle.
Oddly, I have gone through many changes on the boat, including two complete engine replacements in the last 20 years, but I still had the old electronics.
I enjoy the new capabilities that come with new electronics, so it was kind of strange that I was still operating the boat with 1990s era electronics. But, as they say, "if it ain't broke, don't fix it."
I may have been vaguely happy when my sonar (fish finder) started acting up.
It gave me the excuse I needed to replace the sonar and my chart-plotter with a new "multi-function" device.
When I built Afishinado, I included a command station that used a three-display arrangement, the electronic chart, the radar (monochrome) and the sonar (4 color).
My new multi-function, full-color, digital display could handle all of those tasks in one integrated unit.
Of course, this required "upgrading" to a digital transducer (for the sonar), a digital radome (for the radar) and a new GPS receiver, plus purchasing new, and improved, digital charts.
There is no easy way to start shopping for these items. The hype is incredible.
However, I have purchased enough gizmos to know that they are pretty much obsolete on the day you buy them so, I chose a model so new that I had to wait two months for it to ship.
I would not suggest this strategy.
The only information available on this new whiz-bang gizmo was the hype being generated by paid early adopters (shills). And to hear them speak about this product made it sound like the second coming.
I placed my order and I purchased the monthly subscription for the software which "guarantees" my display will always be updating itself by my own use and by those within the larger community of users that will flock to upload their "community inputs" for me.
We have had this system in place for about nine months now, and we still have not figured out how to get it to provide the same level of detail that we had using the old analog system.
THAT is why Charlie and I went fishing for "fun" yesterday.
The good news? We had a breakthrough.
We discovered that the chart magically reveals bottom contour details as the boat pings its way over the bottom IF the "Live Sonar" set-up switch is turned to "on." What?
Essentially the digital chart that we purchased to find bottom structure reveals the detail only after we drive over it and only IF this setting is turned on.
This is like somebody selling you a map that only reveals the directions you need after you have successfully found what you were looking for.
I am sure the tech geeks have some grander plan in mind for this community input feature, but to withhold the very info that the chart is designed to provide makes an old school guy like me want to go out and find a refurbished 1990s era "upgrade."
Capt. John runs Afishinados Charters and Catallac Tours – john@afishinados.com – 888-613-7770.