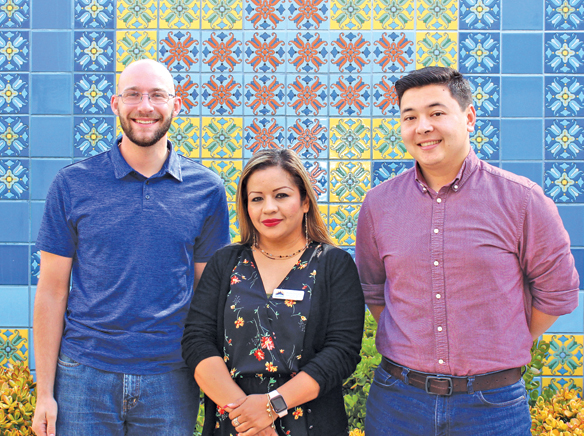 The Catalina Island Museum has recently welcomed a few new faces to its administrative team. Because many of you may have not met them yet, the museum has provided a brief introduction to each of them including their roles at the museum.
Patty Salazar is the museum's new registration and collections associate. Her role is to produce and maintain all collections-related documents and data management records pertaining to the museum's collection. She is involved with all acquisitions, donations and accessions, plus condition reporting, insurance and storage. Salazar has lived on the island for 12 years and was a regular visitor prior to that. She grew up in Anaheim, CA. Her favorite aspect of the museum is the variety of exhibitions and sharing those with the community. Outside of work, she enjoys spending time with her family.
Kevin Liebson is the finance and operations manager at the museum. He oversees all facets of the building, human resources and all things related to its finances. He hails from Manhattan Beach and until his interview for this position, he had only visited as part of a science field trip when he was in middle school. However, he fell in love with the island the moment he set foot on the shore. Having colleagues in the museum field, he knew he wanted to work for a non-profit which was involved with its community and is excited to be a part of an organization that brings one-of-a-kind exhibitions and experiences to Avalon. When he is not working, you will find him volunteering with the theater department, teaching dance classes and playing sports.
Stephen Weber recently joined the team as the development coordinator. His role is to cultivate the museum's donors, fundraise, oversee membership and its benefits, and is in charge of events and receptions for museum members and Patrons Society.
A summer job with the zipline brought Weber to the island from Minnesota in 2012. He had never seen the West Coast and he quickly became enamored with Catalina. He returned for two more summers until he graduated with a Bachelors in History in 2015. At that time, he moved to the island full time. The Movies at the Museum series and the annual Silent Film Benefit are among his favorite events at the museum. Outside of work, he enjoys hiking, snorkeling and scuba diving. You will also see him running in the Catalina Marathon. This year will be his fourth!
Next time you see these folks in the museum, around Avalon, in the interior or running by you in the marathon, be sure to say hello and welcome them to the Catalina Island Museum community.
The Catalina Island Museum offers the best in art and history exhibitions, music and dance performances, lectures by guest speakers from all over the world, and the finest in silent, documentary and international film.
Open seven days a week from 10 a.m. to 5 p.m., except New Year's Day, Independence Day, Thanksgiving Day and Christmas Day. The new Ada Blanche Wrigley Schreiner Building is located in the heart of Avalon at 217 Metropole Avenue. For more information, the museum may be reached by phone at 310-510-2414 or at its website: CatalinaMuseum.org.