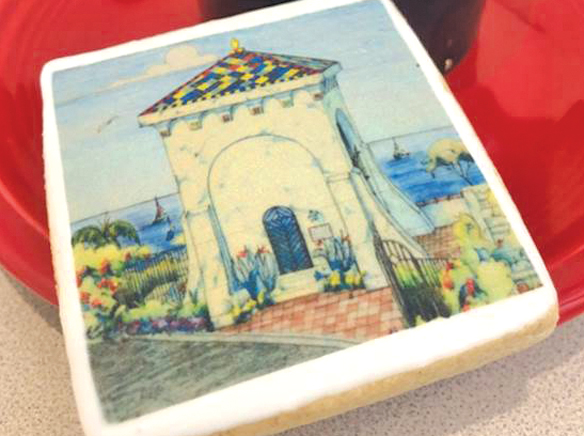 There's a new Chimes Tower cookie in town.
If you've seen the Catalina Chimes Tower in the past few months, you've noticed that things look a little different.
A newly designed front door made with hand-forged ironwork invites passersby to peer in and see the original chimes, while the new decorative fencing opens up the panoramic views of the ocean and town.
Since 2015, the Catalina Coffee & Cookie Company has partnered with Modern Bite, a boutique bakery and design kitchen in Burbank, to create cookies with images of the Catalina Chimes Tower.
The recent visual refresh of the Catalina Chimes Tower called for a new cookie to be debuted at the Catalina Coffee & Cookie Company.
"A few years ago, Lisa [Lavelle of Catalina Tours] and I saw Modern Bite's cookies showcased in a magazine.
They were creating cookies that celebrated Malibu Tiles from the 1920s.
The opportunity to celebrate Catalina tile and the island was obvious," said Erin Eubank of the Catalina Coffee & Cookie Company.
The new, bright and beautiful cookie shows the enhanced front area of the Catalina Chimes Tower.
Ten percent of all Catalina Chimes Tower cookie sales go to the Catalina Chimes Tower Foundation to support its restoration efforts.
Currently in progress, is a high quality, long term repair of the existing structure.
Future plans include restoration of the buttresses and exterior walls; repair of the Deagan chimes and mechanisms; preservation of the existing Catalina tile and native landscape design.
Donations are accepted at CatalinaChimes.org/Events.