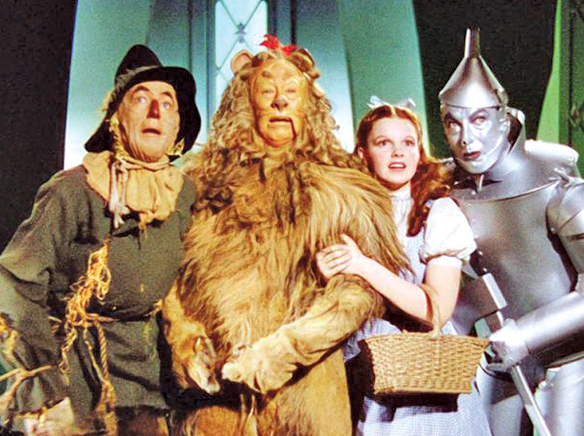 Magic and fantasy continue at the Catalina Island Museum with a screening of "The Wizard of Oz" during its Movies at the Museum program on Wednesday, Aug. 1. The Movies at the Museum program was specifically designed to offer families and people of all ages an option to enjoy the museum after hours along with a classic film under Avalon's starry night sky. Attendees will also enjoy late night access to the museum's special exhibitions "JAWS: The Art of Fear in Filmmaking" and "Houdini: Terror on the Magic Isle."
Called the "greatest picture in the history of entertainment" and the "Mighty Miracle Show of 1,000 Delights," "The Wizard of Oz" (1939) is a Technicolor musical fantasy film. Its notable musical score, fantasy storytelling and memorable characters earned it six Academy Award nominations and it has become an icon of American pop culture. Judy Garland stars as Dorothy Gale, who is swept away by a tornado from a farm in Kansas to the magical land of Oz. She embarks on a quest to see the Wizard who can help her return home, picking up some friends along the way.
The film even has a connection to Catalina Island. The creepy sounds Dorothy hears in the "Haunted Forest" were actually recordings of birds housed in Avalon's Bird Park. The sound crew then played them back at varied speeds and even backwards!
Doors open for the Aug. 1 Movies at the Museum at 7 p.m. The museum's digital theater, Museum Store and galleries will be open. The film will begin at dusk (around 8 p.m.) in the museum's outdoor amphitheater. A variety of movie snacks and popcorn will be available for purchase. Attendees are encouraged to bring their own beverages (alcoholic and non-alcoholic) and/or snacks. Please no glass bottles or glasses. "The Wizard of Oz" is rated PG.
Tickets are $5 for museum members, $17 for adults and $15 for seniors, military and students with a valid I.D. Children (age 15 and under) receive free admission with a paid adult. Admission may be purchased online at CatalinaMuseum.org, in person at the museum's visitor services desk, or upon arrival at the door.
Only one Movies at the Museum date remains:
Wednesday, Aug. 15: "JAWS" (1975) with special guest Joe Alves.
The Catalina Island Museum offers the best in art and history exhibitions, music and dance performances, lectures by guest speakers from all over the world, and the finest in silent, documentary and international film.
Open seven days a week from 10 a.m. to 5 p.m., except New Year's Day, Independence Day, Thanksgiving Day and Christmas Day. The new Ada Blanche Wrigley Schreiner Building is located in the heart of Avalon at 217 Metropole Avenue. For more information, call 310-510-2414 or visit CatalinaMuseum.org.