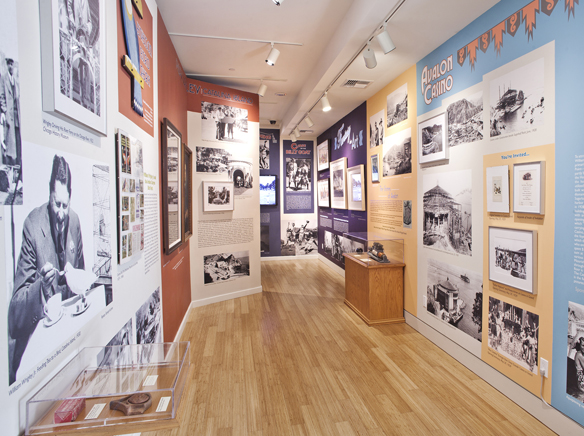 National Museum Day is Saturday, Sept. 22. To celebrate, the Catalina Island Museum is offering free admission for the entire day, 10 a.m. to 5 p.m. This celebration is in conjunction with Smithsonian Magazine's Museum Day Live initiative in which participating museums emulate the free admission policy at the Smithsonian Institution's Washington DC-based museums. Since joining this initiative seven years ago, the Catalina Island Museum has welcomed nearly 10,000 people through its doors during National Museum Day.
Across the nation, museums are regarded as valuable community members. A National Endowment for the Arts report states, "Arts and culture contribute to the overall health and welfare of communities by stimulating civic participation, building social and human capital, and serving as assets that contribute to local economies and support other community-building processes."
"We continue this annual tradition in hopes that this special invitation will spark an interest among visitors and community members to foster a lasting connection with the Catalina Island Museum," said Julie Perlin Lee, Executive Director of the Catalina Island Museum. "We look forward to seeing many new faces at the museum during this event!"
Throughout the day, members and guests will have the opportunity to experience colorful outdoor sculptures by Peter Shire, a new exhibition featuring Catalina Clay Products and the special exhibition Houdini: Terror on the Magic Isle before it closes in early October.
Escape artist Harry Houdini delved into the magic of moviemaking toward the end of his career. Houdini: Terror on the Magic Isle is a unique exhibition focuses on the 1920 adventure film Terror Island in which he starred. Ephemera and movie props from the film made on Catalina Island, nicknamed The Magic Isle, are on display.
The exhibition also highlights a real-life occurrence in Catalina's waters that placed Houdini in a precarious situation that ended in mystery.
The Catalina Island Museum offers the best in art and history exhibitions, music and dance performances, lectures by guest speakers from all over the world, and the finest in silent, documentary and international film.
Open seven days a week from 10 a.m. to 5 p.m., except New Year's Day, Independence Day, Thanksgiving Day and Christmas Day. The new Ada Blanche Wrigley Schreiner Building is located in the heart of Avalon at 217 Metropole Avenue. For more information, the museum may be reached by phone at 310-510-2414 or at its website: CatalinaMuseum.org.