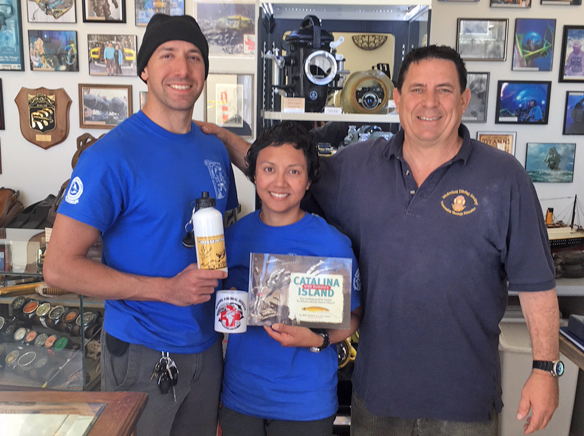 A San Diego couple who decided to come to Catalina to help clean up the harbor stopped in to see the Casino exhibit and walked away with a surprise gift prize.
They came to Catalina Island to participate in the 37th installment of the annual harbor clean-up take place in Avalon Bay. They became eyewitnesses and recipients of a milestone achievement for the Avalon Diving History exhibit as these two clean-up participants wandered into the exhibit located in the ground level of the world-famous Casino building. The couple, David and Michele Quinones from San Diego walked in as the 10,000 and 10,001 visitors to the exhibit since opening in May of last year.
As a showing of gratitude for their contributions to the welfare of Avalon and for supporting local businesses, David and Michele were presented with a surprise gift package which included a stay at the Avalon Hotel, a $100.00 dinner gift certificate from Steve's Steakhouse, autographed copies of "Catalina Dive Buddies" and "Hollywood Isle" books, diver logo shirts &coffee mugs and assorted other gifts presented to them in their island themed tote bag.
The Dive History Exhibit continues to grow with incredibly unique and rare dive related items stemming back to the earliest days of equipment supported diving. The collection on display is truly one-of-a-kind and unavailable for viewing anywhere else in the United States.
Just as important as the historical and educational aspects of the exhibit, the Casino location also acts as a reporting center for the Island's Marine Animal Rescue "MAR" program, so all visitors can learn about local marine animals and the works conducted on their behalf by MAR.
David and Michele said that this was their first visit to Catalina and had already discussed the desire to return for David's upcoming birthday. They said the gift package "Cemented those plans", the community of Avalon welcomes you with open arms upon your return!