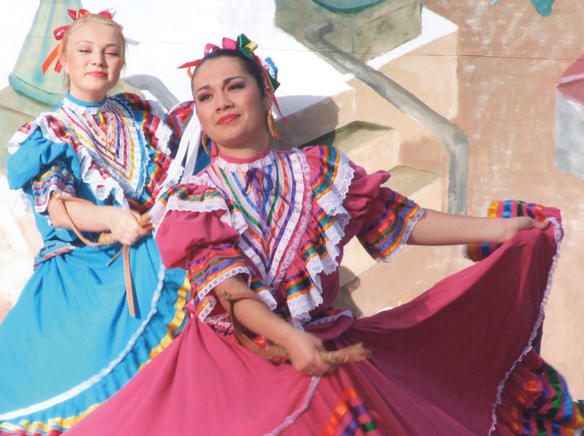 After a nine-year hiatus, the festive Cinco De Mayo celebration will return to the Catalina Island stage, presented by Lourdes Montano Thoricht. She said the festivities will begin at 4 p.m., Saturday, May 5 and will be held on the Wrigley Stage.
According to Thoricht, the event will be "filled with music, dancing, authentic Mexican cuisine, beverages, a public salsa participation class, and plenty of community fellowship and support."
Thoricht took over this annual celebration after Rachel Martin and Teresita Montano, who started this event at the Avalon Elementary school playground, stopped participation.
In 1992, in an effort to bring Avalon's Anglo and Hispanic community closer together as well as a fundraiser for the Avalon PTA, she continued putting on a new show for the next 15 years.
Each year, she donated her time to teach 300-400 students (K-12) with help from Avalon school teachers and traditional folklorico dances which they would perform at the shows.
Shows were performed at various locations, including Descanso Beach Club, Avalon field of dreams, Avalon high school, Wrigley stage, and the Casino ballroom. Many times, they had to build temporary stages.
Thoricht even went to the Isthmus to teach students of the little red school house for two years, so they could participate in the event in Avalon. She also formed an adult dance group- "Ballet Folklorico Quetzal," which consisted of high school seniors, alumni and Avalon community adults. They also performed at each event.
This dance group was fortunate enough to take a 7-day road trip to Colima Mexico to take dance classes at the "University of Ballet Folklorico," where they learned 4 new dances, which they performed at the 2005 Cinco De Mayo Celebration.
In addition, they learned about Mexican history and culture while on the trip. After years went by without the staging of a Cinco de Mayo celebration, Thoricht says she brought it back after being requested by many of the local community to put on another event.
Moreover, being a Rotarian for over 15 years, Thoricht thought that this event might be a good opportunity to raise money for the Avalon Rotary Interact Club and community service projects which are all non-profit organizations.
The event is costly to produce and would not happen without the kind financial support from several local Avalon businesses and residents, Thoricht noted.
Thoricht hopes in the following years the event will continue with the collaboration and help of several long-time dance group members who have shown their interest in taking over future events. She said this is a community event and hopes it helps "keeping us together like family."