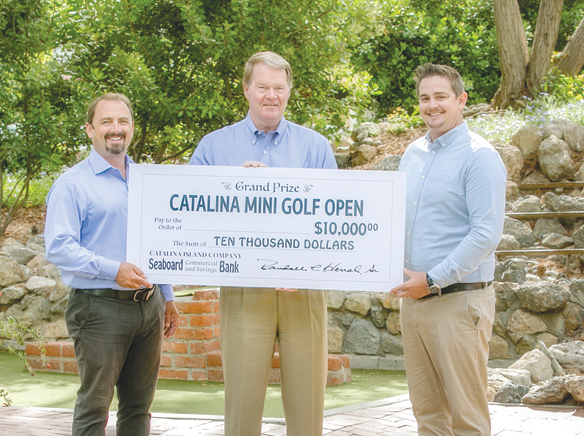 Following in the footsteps of chewing gum magnate William Wrigley Jr., who hosted competitions for monetary prizes nearly 100 years ago, Catalina Island Company is thrilled to announce the first annual Catalina Island Mini Golf Open, which will take place from September 28-30, 2018 in Avalon's Golf Gardens. Contestants of all ages and skill levels will put their best swing forward to compete for a total purse of $15,000, with a grand prize of $10,000.
"We're looking forward to introducing this exciting new annual event to Catalina Island," said Randall Herrel, president and chief executive officer of Catalina Island Company. "The Catalina Island Mini Golf Open is the perfect end-of-summer island activity, adding to the wide array of exciting experiences available for visitors and locals on Catalina Island."
This three-day tournament will be held in Golf Gardens, a challenging and adventurous mini golf course in Avalon, located less than two blocks from the beach. The par 51 course was built by hand in 1973 and has an array of features to keep even the most skilled players on their toes, including a high banked turn, a 150-foot par 6 hole, a concentric maze, as well as a multi-tiered hole with four shortcut tunnels.
Although this is the inaugural mini golf competition, its roots date back nearly 100 years. William Wrigley Jr., who purchased shares of Catalina Island in 1919 and went on to invest millions into the island, first began this grand island tradition of hosting competitions for monetary prizes in 1927. He sought to bring international attention to this beloved, then-little-known island by hosting the first ever Wrigley Ocean Marathon. It was for this open-water race that Wrigley took the first of what would become many iconic photos of himself holding a massive check.
The Catalina Island Mini Golf Open will also benefit a good cause; Catalina Island Company has chosen to make a contribution to the John Wayne Cancer Foundation, a Southern California non-profit organization dedicated to the fight against cancer, whose namesake loved visiting Catalina throughout his lifetime.
Registration is now open and the field is limited, so participants should act quickly and book as soon as possible. Play begins at 7 a.m. each morning, with five persons maximum per tee time. The first round score will determine the cut. Registration includes three days and four rounds of play, a Friday evening opening party at Island Spa Catalina and Saturday evening barbeque at the historic Catalina Country Club.
Thanks to ongoing investments from the Catalina Island Company, the island continues to offer a multitude of activities for people of all ages, from the idyllic Island Spa Catalina to the challenging Catalina Aerial Adventure. Recent updates include the addition of guided outdoor adventures in Two Harbors, allowing visitors to experience the beauty of Catalina's west end from a local's perspective and the addition of a new high-speed Cyclone power boat to transport guests between Two Harbors and Avalon in record time.
For more information about the Catalina Island Mini golf Open, including the rules and regulations, please visit https://www.visitcatalinaisland.com/MiniGolfOpen.