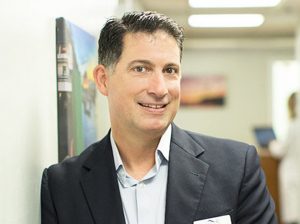 First in a series.
The Catalina Island Medical Center is showing dramatic gains in revenue and customer perceptions as CEO Jason Paret has moved quickly to implement recommendations from a 2016 needs assessment.
Paret, in fact, is quite comfortable on Catalina Island, having previously performed similar turnarounds on more remote outposts in Hawaii and Alaska before being hired by the board two years ago.
According to a "Market Needs Assessment and Strategic Facility Plan" completed in 2016, the existing facility was cited for a number of structural and physical deficiencies.
It was little surprise then, that the facility was losing almost 85 percent of medical dollars spent to "overtown" (mainland) medical institutions.
Since then, however, Paret says he has instituted a number of changes that has significantly changed both the perception of the institution and is winning the confidence back of local residents.
"There were some issues raised in the initial study that questioned the relevance of CIMC to the community," said Paret. Since becoming CEO, Paret has been very active surveying island residents, acquiring new doctors and instituting procedures to recapture medical dollars previously leaving the community.
"We now have a requirement that all primary care physicians associated with the hospital live on the island," said Paret. Also, he has recruited a strategic partnership with the University of California, Irvine, to provide emergency room doctors 24/7 to the facility.
Moreover, Paret said, "we now pay attention to every detail of the patient experience and quality of care," hoping to improve community perception.
Paret's team has developed a more appealing logo, brought in high-speed internet, made insurance changes and updated the medical center's equipment to the extent financially possible.
According to Paret, the medical center is showing "double digit" increases in quarterly revenues, nearly 20 percent in the most recent quarter. Perhaps more importantly, hospital tracking surveys are indicating dramatic increases in positive perceptions and acceptance.
For instance, recent surveys indicate CIMC has moved from the 23rd percentile to 79th in outpatient care, from the 7th percentile to 29th for the clinic and now, the rating for emergency room services consistently finish above the 95th percentile.
Bottom line, Paret says the CIMC is well on the way to becoming a "financially stable hospital able to meet the true needs of the community it serves."
Eventually, said Parent, he believes the CIMC could capture as much as 50 percent of the medical dollars now being spent "overtown."
Next week, the Catalina Islander will detail what service offerings have changed and what will, and will not, be offered with a new medical facility.