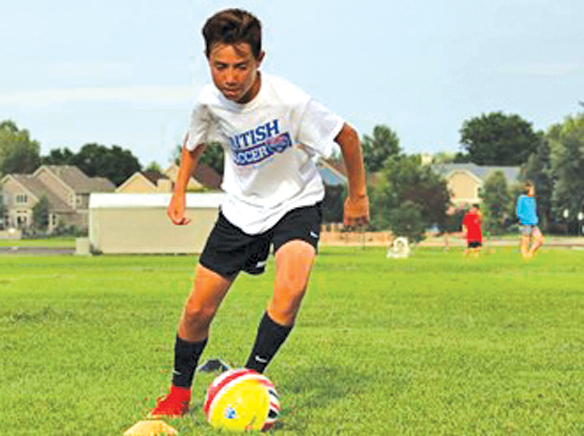 The city of Avalon has teamed up with Challenger Sports to bring the most popular soccer camp in the country to our community at Joe Machado Field on June 18-22.
With programs for ages 2-14, local players have an opportunity to share a fun, positive and educational camp experience centered around a daily regimen of foot skills, moves, juggling, tactical practices and daily tournament play by one of Challenger's 1,100 International soccer coaches
– who inspire confidence, happiness and help build self-esteem.
The highlight of the week is the Camp World Cup, adding friendly competition and cultural variety to each day. The daily tournament gives campers the chance to represent a world cup team, with extra points being awarded for making up chants, wearing team colors of their chosen country, creating flags, and learning as much as they can about their chosen country's culture.
"Our British Soccer summer camps and year-round coaching programs boast an incredible team of coaches from Australia, New Zealand, Holland, Brazil, USA and Canada as well as our traditional team of Brits from England, Scotland, Northern Ireland, Ireland and Wales," said Sean Lines, regional director.
"This diversity of experiences and cultures reflects the truly global nature of the sport of soccer and we are proud to share the best practices from around the globe with the many players, parents and coaches we work with throughout North America."
Digital Soccerlearning app
Extending their camp experience year-round, every camper receives access to iCHALLENGE, a sophisticated new digital learning app along with a library of soccer skills and exercises to practice at home. Campers view and practice the skills linked to their ability level; upload a video displaying their chosen skills; receive personalized online coaching from experienced virtual coaches; and even score points for videos and compete in league tables with other players around the world.
Space is limited. Parents are encouraged to sign up online in advance. To register and for more information, please go to www.challengersports.com or contact your local representative, Sean Lines; 760-945-2109 or slines@challengersports.com.