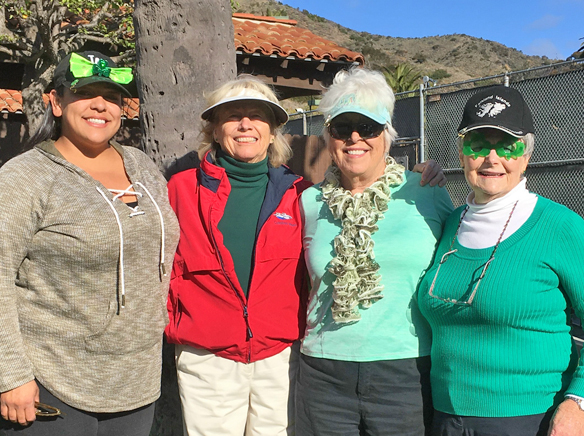 On Thursday, March 15, the Catalina Island Women's Golf Club honored the green tradition with what seems to be a tradition of their own: winning by ties.
This year's St. Patrick's Scramble winners were Betty Tejeda, Ellen Guion, Dolly Burgess and Sue Bray.
Second place was again a tie, with Judy Grear, Lee Black and Alison Osinski scoring the same as Val Schafer, Elena Maria and Pat Hoefs.
"The good thing about ties," noted Val Schafer, "is that it means the teams are very equal. Not only that, the six ladies in second place were only one stroke off the first place score."
Twelve players celebrated the day with lunch at Steve's Steak and Seafood Restaurant and sweets and cupcakes provided by Sue Bray.
All ladies of all levels are invited to play with club members on Thursday mornings.
Be at the course clubhouse at 8:45. Clubs and carts are available to rent, too.