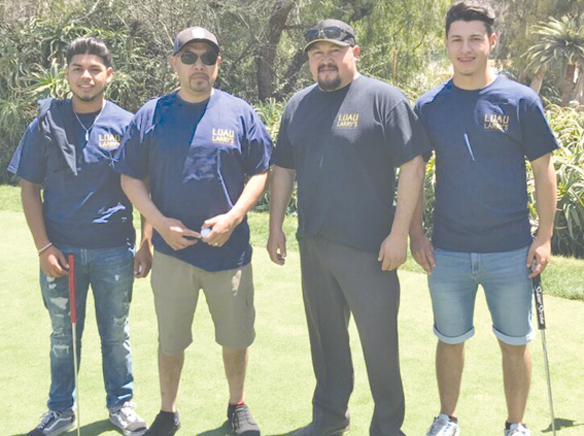 We earned over $10,000 to give out to college bound seniors. We want to thank the community for stepping up, once again, and helping to provide opportunities for Avalon kids. The money will go to students graduating this June and who are heading off to college next Fall. The students need to volunteer to help PTA throughout the year. There is also an application process that requires them to submit a resume, letters of recommendation, high school transcripts and an essay about their plans for the future. They receive the money after we receive their proof of enrollment in college.
Team Luau Larry's came in first place with 7 under par, followed by Coyote Joe's who was a close second with 6 under par. All the golfers enjoyed the event. It was a beautiful day out on the course followed by drinks and dinner at the Sand Trap.
Special thanks go to many local businesses who donated raffle prizes. Island Express Helicopter gave a round trip helicopter ride for two. Conelly Pacific donated four VIP tickets to a Dodgers game. Santa Catalina Island Company gave us $500 worth of prizes to raffle including a Zip Line Tour, a night at the Pavilion Hotel and a gift certificate to Avalon Grille.
Many local businesses put together teams of golfers and also sponsored a hole on the course in exchange for some advertising during the event. We got our first Gold Sponsor ever this year from the Local VFW. They donated a total of $775. Hopefully this opens the door for more Gold Sponsors next year. This scholarship program has been around for many years. We hope it continues. If you'd like to help PTA in any way, please contact Sarah Perez at Avalon Schools 310-510-0790. A huge thanks to Victoria long, Santa Dominguez, Joanel Huart and the other staff and parents who helped with the event.
Sarah Perez is president  of the Avalon PTA.