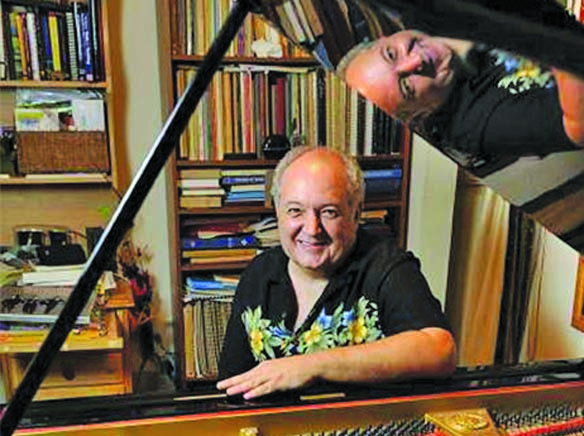 Silent films were actually never silent. Musical accompaniment in some form was used in each and every theatre during that time period. The musical accompaniment of this year's Catalina Island Museum Silent Film Benefit – one of the world's longest running annual celebrations of silent film – is at the heart of this event. Held in the historic Avalon Casino Theatre, William Wrigley Jr.'s 1929 Art Deco Movie Palace, attendees will be treated to an authentic 1920s cinematic experience.  Harry Houdini, the celebrated handcuff king and self-liberator, stars in Jesse L. Lasky's 1920 movie, "Terror Island," which was filmed, in large part, on Catalina Island.
Michael Mortilla & The Accompanists are back by popular demand for this year's Silent Film Benefit. However, Mortilla is approaching the performance a bit different than last year's event. To learn more about his unique approach to the musical accompaniment, the Catalina Island Museum recently sat down with him. Below is an excerpt.
Catalina Island Museum: Last year you composed a score specifically for our screening of "Peter Pan." How is this year's approach to the score different?
Michael Mortilla: In preparing a score for Terror Island, I make a departure from the usual method of film scoring. That is, I am not writing a fully fleshed out score to hand to musicians to play. That is how I have always scored for ensembles in the past, from duet for piano and violin, to the entire Chicago Symphony Orchestra. Not this time.
Museum: With no score, won't the music be a bit chaotic?
Mortilla: With "Terror Island," I have structured an outline for an improvisation. For the more academic types, I created a cantus firmus (an existing melody used as the basis for a polyphonic composition), a practice dating back to at least the 11th Century. Think of a Gregorian Chant. The relatively slow moving melody can be embellished with additional voice and musicians.
I select some tunes already known to the performers, as well as some of my original works, providing the cantus to the musicians. The result is not unlike what one might hear from a jazz ensemble, but thematically, the majority of the performed music is more in the contemporary classical vein, unless otherwise called for in the narrative of the film. But there is an added benefit: the musicians can watch the screen! This allows them as composers to accent certain things in very precise ways and with a highly personal touch. The score one hears at one screening may not be at all like the one they heard at a previous screening, the intent being to make the music and the film as fresh and unique as the day it premiered.
Museum: Can any trained musician play in this type of format?
Mortilla: It takes a very special kind of musician to participate in this kind of performance. A high level of proficiency, at will, is a given. In addition, the performers must be good listeners, creators in their own right, and willing to give of themselves to the process. In short, they must be good collaborators. As all the musicians will be improvising to a structure, as opposed to any actual order of notes, each player becomes a contributing composer to the performance. For that reason, I have selected the very finest musicians available. Nicole Garcia, violin and John Krovoza, cello, are among the most in-demanded "A-list" string players working in the country. Two-time Grammy nominee in his own right, Frank Macchia, woodwinds, has been working with Mortilla since the 1996 Olympics and for many years orchestrated and arranged for Disney. All three musicians were in the ensemble I created for Peter Pan at the 2017 Catalina Silent Film Benefit.
The screening
Experience the unique opportunity to view Terror Island, one of only two movies that Houdini made with the Hollywood Studios, with live musical accompaniment by Michael Mortilla & The Accompanists. Rarely screened, the film has been touted as one where "Every Scene a Thrill – Every Move a Surprise" at 1 p.m. on Saturday, May 19, in the historic Avalon Casino Theatre. The 31st Annual Catalina Island Museum Silent Film Benefit demonstrates the museum's mission to bring history, art, music and film to the community of Avalon and its world-wide visitors.
Member Pre-Film Performance: From noon–12:30 p.m., prior to the screening of Terror Island, magician and Houdini lookalike Jim Bentley will take the stage of the Avalon Casino Theatre for a special performance. This rare performance is open to current members of the Catalina Island Museum only. Join or renew today to take part. Bentley is lauded for his work in film, music and magic. He will give tribute to Houdini with a comedy and magic act. Houdini's Siberian Chain Escape, Straight-Jacket Escape and others will be performed. Members of the audience will be asked to participate and will have a better understanding of Houdini's passion of debunking spiritualist mediums practicing in his era. Mortilla will provide an improvised solo piano accompaniment during the 30-minute act.
The event also features a silent auction of artwork representing films screened at past Silent Film Benefit.
Early ticket purchases are highly encouraged to guarantee seats at this year's event. Tickets are $25 for members of the museum, $28 for non-members and $10 for children ages 3-15.
Purchasing tickets is easy. Please call 310-510-2414, visit the museum in person, or go to the calendar page at CatalinaMuseum.org. Doors open at 11:30 a.m. for members of the museum and 12:30 p.m. for general admission. This program is graciously sponsored by Steve Mandel, Roy Rose, Catalina Island Company, Nichols Foundation and the Magic Castle.
The Catalina Island Museum offers the best in art and history exhibitions, music and dance performances, lectures by guest speakers from all over the world, and the finest in silent, documentary and international film.
For more information, the museum may be reached by phone at 310-510-2414 or at its website: CatalinaMuseum.org.