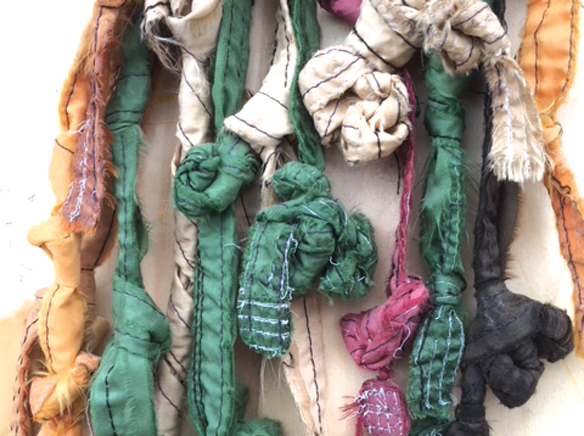 These are wind knots, knots that were tied by the wind in the tattered ends of the flags that flew from the Casino for the past 18 weeks. What is amazing is the randomness and complexity of the knots. This set of flags first flew in the winter/spring of 2017 for four months and then again this past winter/spring of 2018. After they flew in 2017 their hems and seams were re-sewn. After flying in 2018 they are too tattered and faded to be flown again so have been retired. These flags may look small from afar but are as large as king size bed sheets and measure six by ten feet.
The American flags that are flying now measure 6 by 10 feet and the service flags measure 4 by 6 feet. The flag poles are about 18 feet tall and are spaced about 18 feet apart.
The flags on the Casino are changed five times a year. After New Year's, winter and spring colors are flown. For Memorial Day USA, POW, Armed Services and Merchant Marine Flags are flown to honor our country and service men. For Fourth of July, USA and red, white and blue flags are flown. For fall, fall colors are flown. And for Christmas, what other colors should be flown but red and green! With the changing of colors of flags it is often possible to determine what time of year a photo was taken.
In the past, before 2010 flags, were only occasionally flown from the Casino. When the Casino was refurbished in 2010 better pulleys, halyards and hardware was installed making it easier to fly flags year-round.