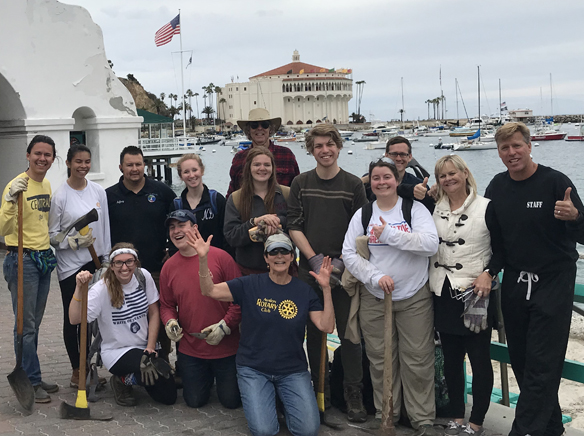 This Tuesday the Avalon Rotary Club completed the second round of its downtown Avalon planting project, according to President Bryce Noll.
Working in conjunction with the city of Avalon, The Catalina Island Conservancy and Southern California Edison Rotarians, volunteers and officials planted more than 500 trees, bushes and plant from the Cabrillo Mole to the Tuna Club, giving downtown a beautiful array of new scenery, he said.
Dan Huncke, Director of Community Services for the City of Avalon, told the council on Tuesday that the Rotary collaboration will beautify the city.
According to Noll, Rotary International President Ian Riseley asked every Rotary club to plant a tree for every member of the club, a feat that was completed well before the day was over as the volunteers did their plantings across the city.
Cliff Hague and Linda Salo spearheaded the two-year project researching and comparing plants that would thrive in Avalon and found plants that contain beauty, drought tolerance and the durability to handle heavy traffic in our summer season.
Rotarians and City of Avalon Public Works and Recreation departments were joined by an unexpected but welcome group as 11 college students on spring break, most of whom are current students on spring break from the University of Oklahoma, asked to help.
After months of planning and coordinating the group was by the expectation of rain on the original Wednesday date and moved the entire operation up by a day with less than 24 hours' notice.
The project was seamless but perhaps the highlight was the very last plant. Just before it was removed from its pot the father of a 6-year-old girl, visitors on the Carnival Cruise, asked if she could plant the flower, one of the now hundreds of freeway daises that line our waterfront. Upon completion of her task her father said that planting the flower was going to be the highlight of her trip.