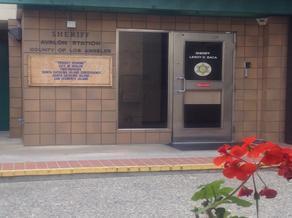 Editor's note: The following is the Avalon Sheriff's Station significant incidents report for the week of Feb. 21 to Feb. 27, 2018.
All suspects are presumed innocent until proven guilty in a court of law.
Many people who are arrested do not get prosecuted in the first place and many who are prosecuted do not get convicted.
March 1
• Deputies received a call in the 200 block of East Whittley Avenue of a suspicious person possibly using drugs and trespassing in residents' backyards. The suspicious party was gone prior to the deputies' arrival.
• Deputies also participated in the Avalon "Short Stop" program at the Avalon Court House. The program educates Avalon youths about the criminal justice system. It also teaching the kids how to stay out of trouble and on the right track.
March 2
• Deputies returned to the 200 block of East Whittley Avenue and ended up arresting a suspect on suspicion of possession of methamphetamine, possession of narcotic smoking pipes and being under the influence of a stimulant. It is unknown if the suspect was the same person from the previous night.
March 3
• Deputies and the fire departments responded to Camino Del Monte Road and Stage Coach Road, regarding a bicyclist that collided into a backhoe tractor. The bicyclist injured her leg and was transported to the hospital.
• Deputies responded to the 333 block of Tremont Street regarding a disturbance call. David Gonzales was arrested on suspicion of assault.
March 4
• Deputies received several calls regarding a disturbance at Pete's Café. Deputies learned people were drinking and arguing but no crimes were committed.
March 5
• Deputies took a vandalism report in the 124 block of Chimes Tower Road regarding two glass panels that were broken.
March
• Deputies responded to the 111 block of Crescent Avenue regarding a disturbance.
Deputies arrested William Kimble of Augora based on $87,000 in outstanding warrants.
Safety Note
If someone calls you on the telephone and reports your computer has a virus, do not give them any information or pay them any money. It is a scam.