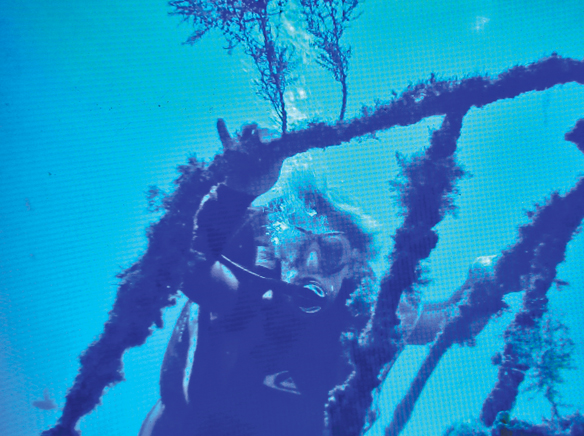 Some of my most memorable dives have been done exploring the various "wrecks" here around the island. I will never forget the day that local marine biologist Dr. Bill Bushing and I dove the wreck of the Suejac, located within Casino Dive Park.
I was fascinated with not only the schools of fish that were present at 90 feet below but also with all the marine growth that had made the 54-foot 1968 Schooner it's home. Before I knew it, I found myself seeking out territories that were off the beaten path, places that people just really didn't want to dive or had no desire to make the effort to do so.
Whenever I would find a new "ship wreck" I would document the approximate location and I would also document marine life that would be present on these exploratory "deep dives."
One afternoon I was carefuly making my descent when all of a sudden out of the corner of my eye, I witnessed three cormorants (aquatic birds) zip down past me like rockets. I quickly glanced down at my depth gauge that read 103 feet! (In fact some species of cormorants have been known to swim down to depths of 150 Feet.)
A few moments later I came face-to-face with the bow of the vessel that I had located a few days prior. Present were huge schools of blacksmith along with several rockfish and of course a whole slew of lobsters cautiously sticking their antenas out of a broken port-hole on the starboard side of the boat. In awe, I fired off numerous shots with my camera as I continued to monitor my safety equipment.
During deep-sea diving, time is extremely limited. Proper protocol must be followed without ever missing a note. The ocean is full of treasures just waiting to be taken in and appreciated. If you take your time to stop and pay attention you will soon realize that there is nothing silent about the sea. It has so much to tell. You just need to forget for a moment what you think you know and listen … And now for your official marine forecast … If warm weather is what floats your boat, well you are on the right Island! Today through Sunday the forecast is lots of warm weather with plenty of sunshine, Expect a temperature high of 90 degrees with a low of 69.
So get out there and get your vitamin D. And don't forget your sunscreen. Always remember to check current weather conditions when planning your activities around the water. Know your limitations and swim near a lifeguard when possible. When In Doubt Don't Go Out!