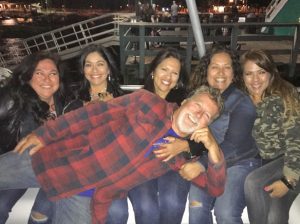 As I was getting back into the discipline of writing a weekly column (I know, it looks easy), I started reflecting on the time off. It has been a fun and busy holiday season.
We started with a little company Christmas party in mid-December where we served the results of our hoop net trip, local, freshly caught lobster, in a killer Posole Verde that Karen has become famous for making.
The next day we left the island for the Holidays and promptly found ourselves in the middle of the traditional controversy over who should host the family for Christmas dinner. Once again, we stepped up.
Christmas is a big deal in our collection of families. Relatives come from near and far to gather and have fun. It is usually a three to four day series of events, the highlight of which is often the feast for 35+ at our house.
We have some great cooks in the group, and everybody brings something yummy to go with the main dish (Pork Loin this year).
By the 27th we were exhausted from partying, so we pretty much laid low for New Year's Eve. We soon discovered that our youngest, Kaitlin had gotten engaged and the party wagon kicked back into full gear for a dinner with the future in-laws.
We still had a few lobster, so we dressed them in a tux and gown for the main course and had a blast talking about a wedding in our futures.
We like to close out our off-season vacation with a skiing trip for the family to Mammoth. Last year was epic, with record snow fall. This year, not so much, so we were a bit concerned about the prospects.
We chose to drive during the Superbowl since we figured it would be an open highway for us. As we drove up 395 we were reminded of how starkly beautiful that back side of the Sierras can be. We arrived at our favorite restaurant just in time for a very exciting 4th quarter of a Superbowl we cared little about.
With temps in the 40s we worried about our skiing prospects. Our worries were unfounded. Over the next three days we enjoyed nearly perfect conditions. Plenty of snow on the runs, absolutely no lift lines and not a bit of wind. Perfect.
We were found ourselves comparing the community and economy of Mammoth with Avalon. There are a lot of similarities, and more than a few familiar faces. We have even exchanged City Managers and other officials over the years.
"Small world," I thought to myself, not knowing it was about to get a lot smaller.
The skiing was so good mid-week that we decided to join our guests and end our trip with a fourth skiing day on Sunday. We had three lift tickets left, but I needed one for the day, so I started checking the social media sites.
Facebook was not very useful, although I did notice that a lot of dogs go missing in Mammoth. Craigslist was much more promising. I found a number of sellers in various communities offering deeply discounted lift tickets.
I sent notes to a few and got a response from a person in Bakersfield. "Unfortunately" she wrote, "I cannot meet you in Mammoth to deliver the ticket, Sorry." She admitted to being not very savvy on the digital world.
I wrote back, suggesting a few strategies, but she was not very warm to the notion of learning about Paypal, Venmo or eVouchers. And then it happened. In her response she wrote "Are you the Capt. John from Avalon?"
"Yes, that is me." I wrote in response. She quickly replied, "I have a picture of you on your boat, the Catallac. We were on board for my friend's birthday party a number of years ago."
The picture, which I have included, was hilarious. It is not uncommon for me to clown around with my charter guests and take funny pictures, but it is rare for me to actually see those pics. I opened the attachment and had to laugh.
Her next text asked if I still wanted the lift ticket. "Yes", I replied. "Now that I know who you are I have no worries about getting paid for the ticket." She responded.
We carefully worked through the process of emailing an eVoucher and signing up for PayPal. A successful transfer made all the easier by the fact that we had a Catalina connection.
Capt. John runs Afishinados Charters and Catallac Tours – 888-613-7770 – john@afishinados.com.