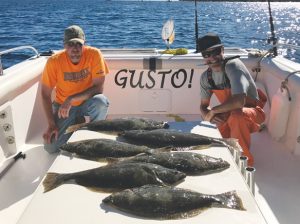 Catalina is not known for halibut. The near shore glory fish here are White Sea Bass and Yellowtail, both are game fighters and delicious table fare. Halibut are almost an afterthought by comparison.
I think of Halibut the way that anglers to our North think of Salmon. Both of these fish are delicious, and because of their high value at meal time, fishing for them adds a level of excitement to the process. It is true, the Yellowtail is a very powerful fish that can pull line off of a reel at an amazing rate. However, the Halibut and the Salmon have their own escape tactics which creates a bit of a frenzy at boat side and an exhilaration when successfully netted.
I am sure this excitement is partially driven by the fact that these fish are sooo good to eat. A bat ray pulls hard and is a tricky fighter, but losing one during battle is a bonus since it relieves the angler from releasing the critter.
Nobody is hoping to lose a Halibut or Salmon during battle. It happens, and there is a clear sense of depression when it does. So a successful capture is all the more fun.
There a two types of Halibut that are well known on the West Coast; the Pacific Halibut and the California Halibut. Although dubbed the Pacific Halibut, the more apt name might have been the Alaskan Halibut.
The Pacific Halibut are caught far to our North. These are the monster flatfish that are found in frigid, deep waters and can grow to 600 pounds. I have heard of some that are captured off the Columbia River coast that separates Oregon from Washington. I have never seen a Pacific Halibut any closer than that, so if you catch a flatfish anywhere in Southern California it is probably a California Halibut.
Our Halibut are not monstrous. The largest one caught off any Afishinados Charter was a 40 pounder caught by a seven year old. An amazing story in itself. The second largest was 36 pounds and we have two 33 pounders in our history. All would be personal bests for the anglers and considered trophy fish.
More commonly we find that the Department of Fish and Wildlife has successfully managed to define the size limit of 22" at about the point where we must release more than 50% of fish caught. Because of this, we measure very carefully and are happy to keep those fish that measure out, even by a small fraction.
Halibut at 22 inches are probably 6 to 8 pounders, more than enough for a sumptuous meal of fish tacos for the family. Whereas the smaller Pacific Halibut (called chickens) are considered better tablefare than their giant relatives, our larger California Halibut models are coveted.
There is something magical about catching a large (more than 20 pound) California Halibut for those anglers that are true 'Afishinados' of the species. As the fish comes into view and the anglers realize that we need to switch from net to gaff there is a collective inhale that is not released until the fish is "in the box." Notice I said "in the box" rather than simply gaffed. There is nothing simple about gaffing Halibut. They are quick at boat side, darting under the boat and in the direction of the props which will facilitate their effort for freedom.
Although they may be thick, their profile is flat and they can be very slippery. In addition, nobody wants to gaff a halibut through the meat, so a head shot is preferred, making the process that much more challenging.
Add a highly excited, sometimes very vocal angler barking orders to the gaffer and you can imagine the chaos and the pressure for getting the gaff shot. But, that is not all …
Halibut are never done fighting just because they have been gaffed and brought in to the boat. Their kicking and thrashing begins in earnest when they hit the deck. Dispatching a thrashing Halibut is tricky, but important since every point of contact with the boat is a potential bruise to that delicious meat.
I have heard of inexperienced anglers tossing the fish into a cooler and sitting on the lid waiting for the fish to stop kicking inside of the cooler, only to have the fish kick itself clean out of the cooler and the boat upon opening the lid for an inspection. In 15 years we have had only one person fall overboard from one of our boats, and this happened when a seemingly docile, fully gaffed Halibut came to life during picture time taking the angler and the gaff with him into the sea.
Catalina Island, with it's steep drop-offs, has only a few locations that meet the needs of Halibut during their Spring spawn. If you want to target Halibut, now is the time to charter a boat and learn how to catch them in our waters.
Capt. John runs Afishinados Charters and Catallac Tours – john@afishinados.com – 888-613-7770.