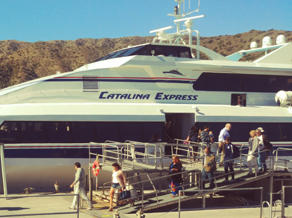 Official visitor counts released this week by the Catalina Island Chamber of Commerce confirm that more than one million visitors set foot on the island in 2017.
According to Jim Luttjohan, President and CEO of the Catalina Island Chamber of Commerce and Visitor's Bureau, the numbers confirm the overall attractiveness of the Island as a destination coupled with effective marketing.
The official count for 2017 was 1,097,500, which includes "in-bound arrivals by cruise ship, private craft, charter aircraft and cross-channel carriers.
While the yearly numbers topped one million, the incremental growth was up as well as December "saw stellar visitor increases" the chamber reported.
By far, the combined cruise and cross-channel crossings of 1,004,213 accounted for the bulk of the visitors and that number reflected an annual increase of 4.2 percent over last year.
The actual cross-channel crossings were 712,730, which also reflected an increase of 1.5 percent.
The statistics indicated that July was the busiest month in 2017 while January, not unexpectedly, was the slowest month.
Luttjohann said weather, or the lack thereof, played a significant role in the increases, saying the lack of weather related cancellations was as at all time low. February was the only month that showed significant weather related cancellations in 2017, he added.
The addition of cruise ship passenger count to Avalon Harbor is nearing 300,000 per year, with 291,483 actual passengers coming ashore in Catalina for the year, reflecting a 12 percent year over year increase.
Luttjohann attributed the visitor milestone to many factors, including effective marketing, valuable strategic partners and the lack of weather related cancellations for the year.
Despite the visitor surge, Luttjohann said a capacity analysis performed by a reputable consulting firm indicates that "there is still plenty room for tourism growth" on Catalina Island.