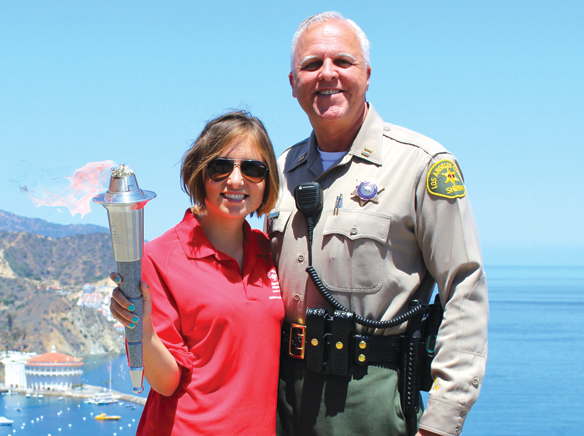 Capt. John Hocking from Avalon Sheriff's Station brought the Special Olympics to the city of Avalon on Wednesday, May 16, 2018. Special Olympics athlete Kayla Schilz carried the torch through the city of Avalon in anticipation of the June 9 and 10, 2018 Summer Games at California State University, Long Beach.
The Los Angeles County Sheriff's Department, Mayor Anni Marshall, Avalon City Fire Department, Avalon Harbor Patrol and the community greeted Kayla upon her arrival in Avalon. Kayla was given an Avalon Fire Department hat, a city of Avalon Pin from the Mayor, sweets from the Cookie Company, and Sheriff's Department memorabilia.
The Special Olympic Games attracts more than 1,100 athletes from across Southern California who will compete for gold, silver, and bronze medals and ribbons. More than 10,000 individuals will attend the games.
The Law Enforcement Torch Run for Special Olympics Southern California is the largest public awareness vehicle and grassroots fundraiser with more than 3,500 officers in Southern California championing acceptance and inclusion. The Law Enforcement Torch Run is represented in all 50 U.S. states, Canadian provinces and 46 nations with 97,000 officers around the world.
More than1,200 officers from local, county, state, federal, and military agencies go above the normal call of duty and run in the annual Law Enforcement Torch Run® Final Leg. The officers champion acceptance and inclusion as they carry the "Flame of Hope" nearly 900 miles and through 200 Southern California communities (including the city of Avalon).
The Final Leg ends at the Summer Games Opening Ceremony, where the torch lights the cauldron to symbolize the start of the Games. Along the way, they educate the community about the gifts, talents and abilities of people with intellectual disabilities and promote unity and respect for all.
The Avalon Sheriff's Station is collecting donations for the Special Olympics athletes. Cash and checks are being accepted. Visit Avalon Sheriff's Station, 215 Sumner Ave., Avalon or visit sosc.org. Please make checks payable to "Special Olympics."