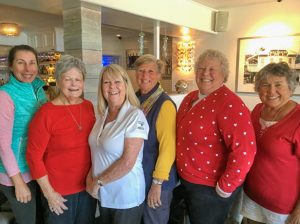 On Thursday, Feb. 15 ,eleven island women competed in the "Partner's Best Ball" Tournament.
The Women's Catalina Island Golf Club players were paired according to handicaps—high and low. Winning holes were based on the best adjusted score on each hole. The winning pair was Maria Elena and Sue Bray.
Second place was a tie between the teams of Lee Black and Judy Grear, and Alison Osinski and Val Schafer.
After the tournament, the ladies enjoyed a wonderful lunch at Steve's Steak and Seafood Restaurant with a fabulous chocolate-covered strawberry dessert provided by Sue Bray in honor of Valentine's Day.
As always, several ladies continued with games at Alison Osinski's.
All ladies are encouraged to play on Thursdays. Be at the clubhouse at 8:45 a.m., Thursday morning.