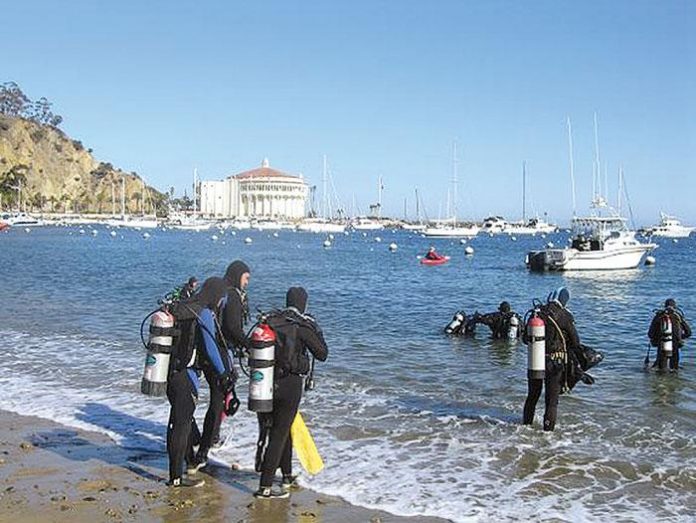 When:
February 24, 2018 @ 7:00 am – 3:00 pm
2018-02-24T07:00:00-01:00
2018-02-24T15:00:00-01:00
Event Date:
Saturday, February 24, 2018 – 7:00am – 3:00pm February 24, 2018
USC's Catalina Hyperbaric Chamber and Wrigley Institute for Environmental Studies–Catalina Conservation Divers are proud to host Catalina Island's 37th Avalon Harbor Underwater Cleanup, one of the largest annual dive events in Southern California. The event began in the 1970s in an effort to cleanup Avalon Harbor, and this event is the only time diving is permitted in the Harbor.
Southern California divers have made the Avalon Harbor Underwater Cleanup one of their premier social events of the year. Divers retrieve trash and lost items from Avalon Harbor, and revel in the warm friendly atmosphere of Catalina Island. Last year, approximately 494 participants recovered 5,200 pounds of trash. Proceeds from the event will benefit USC's Catalina Hyperbaric Chamber and Wrigley Institute Scientific Diving Program.
Divers:
$45 Early registration through January 4th
$55 January 5th – February 15th
$65 Day-of Registration at Wrigley Stage
Each diver must bring the following completed forms to check-in.
Streamline your dive team's registration process! Adding your dive team to the registration page allows your divers to register individually or as a group—All you have to do is assign a team leader for day-of collection of dive forms. For more information please contact Katie Chvostal at chvostal@usc.edu.
Non-Divers: $30
Schedule of Events
7:00-9:00 AM – Check-in for Pre-registered Divers (Dive Locations)
7:00-9:00 AM – Day-of Registration (Wrigley Stage)
9:00 AM – Dive Master/Diver Orientations (Dive Locations)
9:30-11:00 AM – Divers in Water (Dive Locations)
11:00 AM – All Divers Out of Water (MANDATORY)
1:00 PM – Door Prize Drawing (Wrigley Stage)
1:00-3:00 PM – Award Ceremony (Wrigley Stage)
Register online at www.usc.edu/esvp, code: 37thCleanup
For more information visit www.dornsife.usc.edu/wrigley/wies-ccd-cleanup