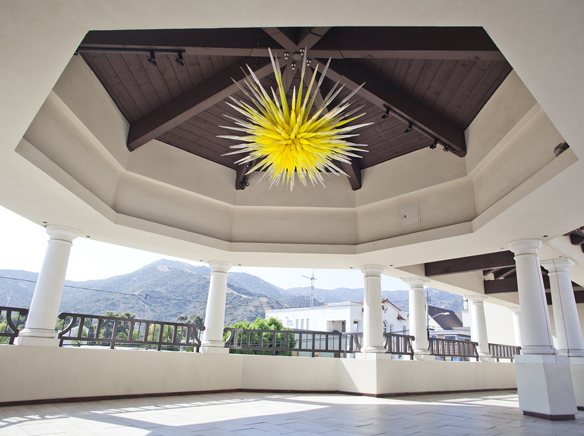 Record crowds flocked to the Catalina Island Museum last year for an intimate view of works by internationally renowned artist Dale Chihuly. The museum-wide exhibition received rave reviews. Members and guests wondered inquisitively whether the museum would keep one of the sculptures. The clear favorite: the Aureolin Yellow Spire Chandelier created by Chihuly specifically for Catalina Island and its museum.
When asked about the chandelier, Chihuly said, "I love old movies, and Catalina Island has a glamorous history as a location for old Hollywood films and favorite vacation spot for celebrities. The Museum is a gem, and I wanted to create something for its gazebo that reflected the island's glamour and innate charm. I see the Aureolin Yellow Spire Chandelier as a beacon of light for the museum, and would love to see it find a permanent home in that community."
To keep the chandelier in its second level gazebo, the museum would need the help of its community. The campaign began in August with an anonymous donor pledging to match all donations up to half of the total. Donations of $1,350 per spire were encouraged.
Museum members and guests stepped up with donations of all sizes. The community effort to make Avalon shine bright under Chihuly's Catalina Chandelier breaks down like this: 182 spires, 84 donors, $860 average gift, 20 donations of $1,350, a six-month campaign
"It is official…" said Catalina Island Museum Executive Director Julie Perlin Lee. "We are proud to announce that we will be keeping Chihuly's Aureolin Yellow Spire Chandelier on Catalina Island! We could not have done this without the help of our community of members, island residents and visitors. Every individual donation was crucial. It is amazing what we can accomplish when everyone comes together."
According to the museum, acquiring the Chihuly chandelier is important for a number of reasons.
Not only does it compliment the island's sunny skies and clear blue waters, it also offers spectacular viewing during the day and at night. It attracts visitors form the street and offers a "wow moment" once inside. It is also located in the museum's main event space and adding one-of-a-kind ambiance for any event.
In addition, it allows the Museum Store to continue to sell the very popular Chihuly merchandise—including including glass artwork from the Dale Chihuly Studio—and keeps the door open for the potential of another exhibition of Chihuly's artwork in the future.
The Catalina Island Museum offers the best in art and history exhibitions, music and performances, lectures by guest speakers from all over the world, and the finest in silent, documentary and international film.
Open seven days a week from 10 a.m. to 5 p.m., except New Year's Day, July 4th, Thanksgiving Day and Christmas Day, the new Ada Blanche Wrigley Schreiner Building is located in the heart of Avalon at 217 Metropole Ave..
For more information, the museum may be reached by phone at 310-510-2414 or at its website: CatalinaMuseum.org.