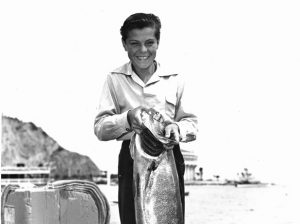 Travel back into Catalina Island history with lifelong resident Doug Bombard during "Desserts with Doug" at the Catalina Island Museum on Friday, Feb. 23, at 6 p.m. The evening will feature a screening of the new documentary, "Doug Bombard: A Life on Santa Catalina Island," created by Story Bank Productions. This event is also a celebration of Bombard's 92nd birthday. Coffee and desserts will be served.
Overlaid with historic photographs, Bombard's recollections paint an image of what it was like to grow up in Avalon during the island's heyday. Alongside images of children counting their money next to the Great White Steamer, he reminisces about diving for coins in Avalon Harbor and the techniques used to collect and hold the coins thrown by the arriving tourists. He shares stories about mornings and evenings spent fishing with his father, seeking out white sea bass at Italian Gardens, Hollywood stars who became friends like John Wayne and the spring training days of the Chicago Cubs. With the help of his wife and his sons, Bombard shares what it was like to raise a family at the Isthmus, develop Two Harbors, the founding of Catalina Express and more.
Bombard's love for Catalina is apparent in each and every story. His passion for the island remains steadfast and has been passed on through all members of his family.
The documentary was filmed and produced by Bill Banning and Alison Armstrong of Story Bank Productions. Their studio is located in Santa Monica. Bill Banning is a descendant of the Banning family that owned Catalina Island/Santa Catalina Island Company before it was purchased by the William Wrigley Jr. and he is passionate about sharing the island's fascinating history.
The museum will re-open for this event at 6 p.m. and the film screening will begin at 6:30 p.m. This event is free for members of the museum and $10 for non-members. All children must be accompanied by an adult. Coffee and desserts from Catalina Coffee and Cookie Company will be served. Seating is limited and is first-come, first choice. Tickets may be purchased in person at the museum, online, or by phone at 310-510-2414.
The Catalina Island Museum is open seven days a week from 10 a.m.-5 p.m., except New Year's Day, Independence Day, Thanksgiving Day and Christmas Day. The museum's new Ada Blanche Wrigley Schreiner Building is located in the heart of Avalon at 217 Metropole Ave. For more information, call 310-510-2414 or visit CatalinaMuseum.org.