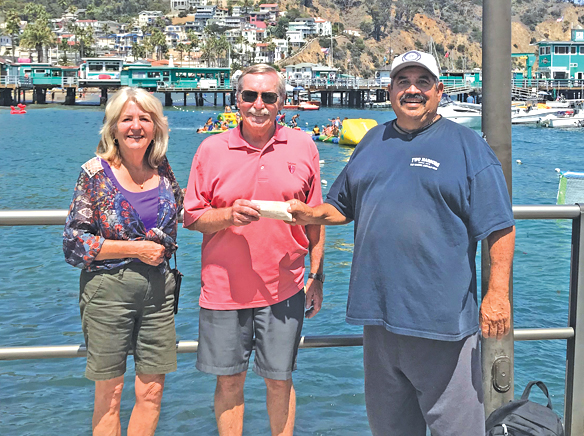 "Once an islander, always an Islander" goes the popular sentiment and in the case of former teacher and coach Ed Carroll, the maxim is certainly true.
The retired teacher came back to Catalina Island this week to give back to the youth baseball program that he remembers as giving him so many great players to coach.
Carroll traveling 1,230 miles to visit the island and present a check for $4,000 to the city for use in buying equipment and other needs for the youth baseball program. "It was a great feeling to be back and to be able to give back," said Carroll.
Carroll's Catalina journey began in 1972 when he was looking for a teaching job. When Avalon School had an opening for a part-time position for a "science teacher," Carroll quick applied.
He traveled over to Avalon, met with the principal, who quickly asked him, 'when you can start?'
Carroll and his wife had just found a little house in Long Beach but they packed up and moved to Avalon, where it took a while to find a permanent home. "We had to take vacation rentals, put our stuff in storage at the school when the lease was up, then find something else."
Eventually, they did find a place to live and he truly fell in love with the island as he became the school's "science guy," teaching general science to the under classes, marine biology and chemistry to the advanced classes.
Carroll had played a lot of baseball during his youth and during his own high school career, so once he got settled in as a teacher, he went to the Athletic Director to ask if he could volunteer to help with the baseball program.
He said the AD at the time was making more money as a harbor patrolman during the summer, so he offered him the entire coaching position for the Avalon high school baseball team. "I think it paid about 25 cents per hour," he remembers.
But Carroll jumped at the opportunity and he became the "science guy" and the coach from 1972-1979, winning two Academy League championships and progressing to the state quarter finals.
Avalon school then had only about 400 students, and perhaps only 100 boys from which a baseball team could be fielded. "We played teams over town that were much larger but we found a way to win."
For Carroll, however, the title he is perhaps most fond of is former island resident. While on the Island, he stayed with his longtime friend, Marshal Paull, who taught 6th grade English for 37 years at Avalon school.
"Walking through the streets of Catalina, it made me feel really good to see old friends and people who remembered me," he said. "Everyone knows (and loves) Marsha," he said.
Before departing for Austin, Carroll met with Mayor Anni Marshall and Councilman Richard Hernandez, baseball commissioner, both of whom expressed gratitude when accepting the check from Carroll.
Carroll said he remembers Hernandez, saying he was involved in the Avalon baseball program even way back while he was the coach.
Although he had been back to the island a decade ago, Carroll said he was amazed at the many golf carts buzzing around the streets of Avalon. "It wasn't that way back then," he jokes, although admitting there were golf carts even then.
Carroll beamed with pride as he draped himself with an Avalon baseball jersey from years past when he was coach. It was baseball blue striped with "Avalon" written in baseball script across the front. It was almost as if he was back in the 70's as coach when wearing the jersey, pride bursting through his smile as fond memories of boys running the bases back in the day flooded his memory.
"Back then, I was just a poor schoolteacher. I'm happy now that my professional investments have done okay and I can give back to the place that gave so much to me."