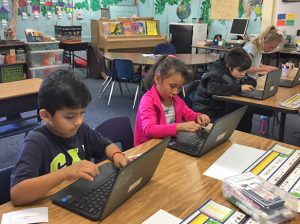 Thanks to a recent donation by the Catalina Island Foundation, enthusiastic first-graders can now take their seats at the computer lab in Avalon School and work on brand new Chrome books. They practice touch typing, play math games, and learn the basics of keyboarding to get ready for computerized State tests that will start as early as third grade. The new Chrome books for the in-class computer lab experience will be a key learning resource for young islanders in the years ahead.
Six year old Makayla Riley is among thirty-six first grade students in Avalon school who are excited to learn new skills at the recently established computer lab. "My favorite activity is playing math games and learning to add and subtract," says Makayla.
According to teacher Mary Lou Eroen, many local children do not have access to computers at home and lack basic skills that are essential for academic success. With the ever-increasing dominance of technology, it only makes sense that schools are also utilizing it in the classroom. Technology not only enhances student communication and collaboration opportunities but enables them to work together on groups projects and reinforces specific, targeted, learning skills for individual students.
"We are really excited to be able to offer this opportunity to our first-graders, who have already learned a lot since the beginning of the school year. We are very grateful for Catalina Island Foundation's kind and thoughtful donation and its support of the students and teachers of Avalon," said Mrs. Eroen.
CIF supports youth groups, scouting programs, school field trips, health initiatives, substance abuse education and remediation, sports and performing arts organizations, and college scholarships.
Funding requests are accepted on a regular basis from all non-profit civic groups working to improve the quality of island life.
For more information about CIF, visit www.catalinaislandfoundation.org or call us at 310-427-2450.