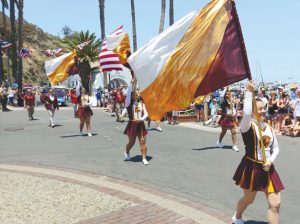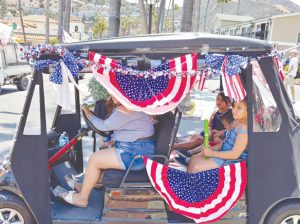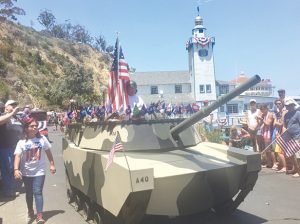 While there were many Independence Day celebrations throughout Southern California on the 4th of July, the tiny island of Catalina has to boast of one of the most spectacular.
Mini-celebrations and a variety of activities were scheduled through Avalon as the famed USC Trojan Marching Band headlined the parade and performed from the city stage.
Supervisor Janice Hahn joined Mayor Anni Marshall and other dignitaries in the parade. Marshall said she was "very impressed" with the floats in this year's parade.
Jani Eisenhut, who has long played the chimes at Chimes Tower, served as Grand Marshal of this year's parade (see Letter to the Editor).
"I've lived in Avalon for more than 70 years," said former Mayor Rudy Piltch, "and this year's celebration has to be one of the biggest yet."
Other local elected officials, military officials, public service officials and a variety of entities marched throughout the streets of Avalon to celebrate American independence.
Later in the evening, the city's annual fireworks display over Avalon Bay lit up the sky as residents gathered on boats, the beach and their homes to enjoy the show.
"As far as we know, there were no major incidents," throughout the celebration, the mayor said.