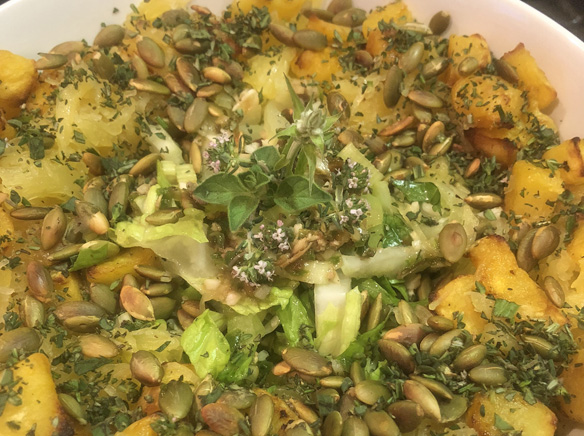 My daughter Brianna takes one for the team
Back from a Sea Trial (the term when somebody is in the process of buying a yacht) I am beat and my daughter Brianna made a wonderful dinner last night. I asked her to photo and share the recipe and promote her business. This was really wonderful and quite healing.. Like her Facebook page FOOD SETS THE MOOD.
TAKE IT AWAY BREEZY IN 3…….2……1……WE ARE LIVE……
"Wintersweet" or "Joy of the mountains" are the known symbols behind Marjoram. It's calming properties and positive effect on the immune and nervous systems created this reputation. "Goose Herb" is what the Germans know it as, they traditionally use it for roasting geese. This has always been a top favorite for me, it's fragrant and woody with an herbaceous aroma. This essential oil may be used topically, aromatically, internally and neat/withou t dilution.***
Recipe for happiness:
Yields 4
-4 large Zucchinis
-4 stocks of Celery
-1 Onion
-1 Serrano pepper chopped
-8 large Garlic cloves chopped
-1 Peeled, halved and deseeded Acorn Squash (save seeds for toasting)
-3/4ths to 1 cup Roasted chicken juices
-1/4cup chopped thyme, oregano and rosemary
A fun and delicious base sauce for your poached egg, salad, vegetable stir fry or chicken. After roasting a chicken, save the juices in a pyrex to let it turn into a gelatin overnight. This Chicken jelly-like broth is very high in nutrients and it also aids digestion, helps improve bone density, heart health and joint pain including arthritis. You may leave it in the fridge for up to 4 days or stick into an ice cube tray and freeze for a longer shelf life.
Cut the zucchini into oblique slices and add to a sauté pan with olive or coconut oil at medium-high heat. Julienne the celery and onion, slice the acorn squash into cubes about 3/4inch and add to pan. Once light golden on 2 sides of the squash, toss the garlic and herbs into the vegetables.Melt the naturally congealed chicken gelatin in a separate pan. Once it is melted, add 3-6 drops of Marjoram essential oil and chopped serrano. Let the pepper loosen its' sweetness and elongate spice level with a light simmer, then pour the chicken jus over your vegetables. If you'd like, add a dash of cream or coconut milk and reduce before combining. Enjoy alone or lay the veggies on a bed of spaghetti squash with some romaine topped with toasted squash and pumpkin seeds, along with a dollop of greek yogurt. I love using this essential oil for salad dressings too.
•1tbl of melted coconut oil and 1 drop of the marjoram oil per person
•Small pinch of Himalayan sea salt
There is so much to do with this joyous herb and I am here to help!
***Order your oils here: https://www.doterra.com/US/en/site/briannaallen.
Contact FOODSETSTHEMOOD on social media, send me a message mentioning you saw this and i'll give you the wholesale price on your order
Capt. Vaughn Allen was a private chef and butler for the ultra rich and famous most of his life. Vaughn was recently called out of retirement to cook the intimate celebration dinner for Sir Ringo Starr and his close friends. Vaughn is a businessman, scuba instructor and most recently a yacht broker in Redondo Beach. You can contact him at captainvaughnallen@gmail.com.