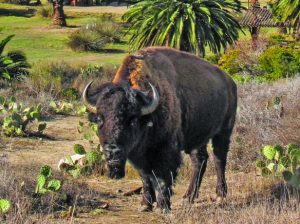 What began as a small story of a bison goring on Catalina Island, slowly went viral over the past week, according to Google alerts. What began as a single newspaper report was eventually picked up by newspapers and broadcast outlets across the nation and around the world.
The Los Angeles Sheriff's Department has confirmed the incident in which a man camping on the island was gored by a buffalo. So far, the man has not been identified but Los Angeles County sheriff's officials say the man was sitting on a log Saturday evening as the buffalo was grazing nearby.
When the buffalo came closer the man tried to move away and that's when the animal charged, sheriff's officials say. Authorities say the bison gored the man's left arm, though no source has been able identify the extent of injuries.
Coast Guard air rescue teams often get called upon to do medical evacuations from Catalina Island and other places that would otherwise take much longer to reach by boat.
Sources confirm the man was treated at the scene and then airlifted to a hospital on the mainland for further treatment.
Buffalo are common and roam freely on the back side of Catalina Island, where there are campgrounds. They have roamed the island for nearly a century and officials say despite the incident this past week, bison attacks on Catalina Island are rare.