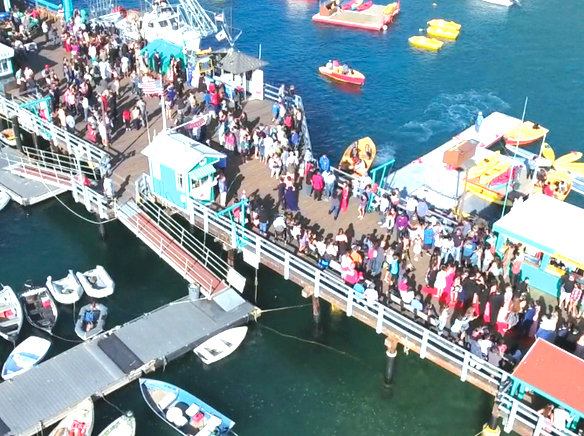 In what has become an Avalon School "rite of passage" for high school seniors, the annual "PromWalk" occurred this past week on Catalina's famous pier.
"It's a tradition that goes back decades," said Patti Engel, the school's athletic director and ASB Financial clerk. She said a total of 94 juniors and seniors attended the island's prom this year.
According to Engel, the tradition began when senior classes were a dozen or less and the class would walk down the pier to catch the now retired Blanche W, "Flying Fish" boat, which would then take them to a senior prom location in another part of the island.
It is important to note that there are few places on Catalina Island with more history and tradition that the "green pier" itself. Long before Catalina's modern infrastructure was built, the pier acted as a "town square" where mariners, fishermen and visitors would connect with the island, share stories and create the folklore that survives till today.
As the island grew, classes got bigger and there were more venues on the island, but students began to take enormous pride in the tradition and continued it, she said.
The modern "PromWalk" tradition has become a citywide event in Avalon, as parents, students, and well-wishers gather on either side of the pier.
According to the Avalon School spokesperson, students eligible to attend the prom dress in their tuxedos and prom dresses and walk down Catalina Ave. to the pier.
Each couple then enters the pier (350 feet long) as the worn wooden planks are instantly transformed with its "red carpet" as supporters from either side cheer on the students.
The couples stroll a couple of hundred feet down the pier, circle around the Fish Market, where the prom's sponsor's (Junior Class) faculty advisor greets them, hands them an invitation to the prom, and the couples casually stroll back off the pier and head off to the prom, said Engel.
This year's prom was held not far from the pier at Catherine's Terrace on Descanso Beach, she added.
Engels said this year's class of 38 seniors will also attend a breakfast together June 8th as seniors come to the event dressed in their caps and gowns, another Catalina tradition.
Finally, on June 14, the Class of '18 will graduate in a ceremony steeped in even more tradition. Avalon seniors will get their diplomas in the iconic Catalina Island Casino & Avalon Theatre, a building through which some of the most legendary Americans have visited and performed since it was constructed in 1929.
Wayne Herbst, who was the school's activities coordinator until two years ago, agreed that the students "loved the tradition" and it was great for parents and teachers as well.