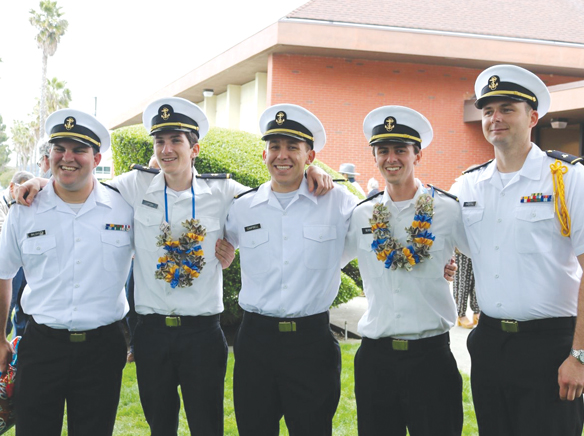 Five former Avalon High School students recently received bachelor of science degrees. Some also obtained US Coast Guard licenses that will allow them to work in marine related industries or on ships sailing in US waters. The license is acquired after passing a series of brutally difficult tests equivalent to a bar exam.
Avalon High school does not receive a lot of recognition for it's graduates. The school has distinguished itself however by being the second largest provider of students attending the California State University Maritime Academy. The smallest school in the university system located in Vallejo has gained notoriety for not only having the highest graduate job placement rate in the state but also one of the highest in the nation. The curriculum is brutal and comes with a heavy student workload and only the most determined survive. This unique 1,200 student school also has one of the highest dropout rates in the country.
Gabriel Saldana, Austin Bierold, and Zachary Upton earned BS degrees in Marine Transportation; Colin Campbell earned a BS in Business Administration; and Nathan Macktal earned a BS in Mechanical Engineering. Avalon doesn't flood the workplace with doctors, lawyers or other professions whose members can call this town their home.
What does come from here are individuals who know and appreciate how they grew up and have a desire to excell in careers that reflect those experiences.
The community can be proud of their high school and the teachers who provided the motivation and encouragement that opened the window to ambition and gave this group a glimpse of the future.
These cadets then gathered the courage to conquer the unknown, developed the determination to suceed and the willingness to not settle for the comfortable.