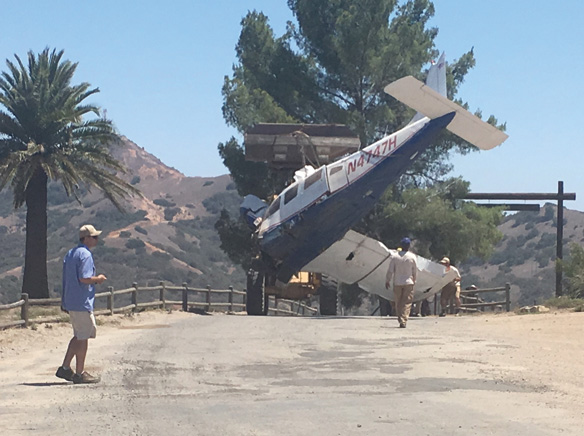 The pilot of the plane that crashed at Catalina's airport last month is still in the hospital, according to Aviation Accident Investigator Jack Vanover of the National Transportation Safety Board.
According to Vanover, the pilot is still being treated for his injuries. Consequently, Vanover has not yet spoken with him about the plane crash.
Vanover said he believed the two passengers had been released, but he would have to confirm that.
According to Vanover, the preliminary report is expected to be published Friday, Aug. 24, or possibly Monday. Vanover said he had filed the report.
Once the report is published, it should be available on the NTSB website.
A Piper PA32-300 carrying a pilot and two passengers skidded off the "Airport in the Sky" runway on Wednesday, July 25. Vanover said the plane "impacted" at 9:30 a.m. The plane dropped about 600 feet.
As previously reported, the plane hit the ground near El Rancho Escondito, a highway that connects the airport with other remote parts of the island.
The plane bounced off a ledge near the bottom of the hill, made a sharp turn to the left and ended up directly on the roadway.
The passengers were able to get out of the plane on their own. Catalina Fire and Rescue personnel had to get the pilot out of the plane
At the time, Capt. John Hocking, Avalon Sheriff's Station commander, said it was believed that the the pilot was bringing the two men to the island to install or repair an antenna used in radio transmissions.
According to Vanover, the Safety Board has classified the flight as personal.
After the crash, the three men were takent to the Harbor/UCLA Torrance Medical Center.
The pilot was identified as Edward Martell, 71, of Fountain Valley.
The passengers were Christopher Burt, 30, of Anaheim, and Nathan Kim, 52, of Chino Hills.
Vanover said the Piper was taken to a secure facility in Phoenix, Arizona.
Vanover said that in about nine months, the NTSB will issue a factual report about the plane crash.
He said about three months after that, the agency will release a report on the probably cause of the crash.
To see the report once it is published, go to a search engine, type in WPR18LA203, add a space and the letters NTSB, and hit "return."