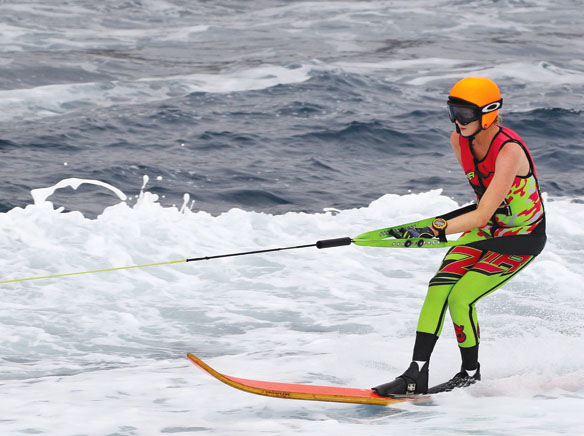 If you aren't sure how serious skiers take the 60-mile Catalina Ski Race, this year's event ended in a virtual drag race with two skiers, one Australian and one American, in tandem with their tow boats, racing towards the Long Beach finish line.
Ben Gully, the Australian, just tipped the finish line one-half second before last year's winner, Todd Haig, to register an upset of sorts and prevent a twofer for Haig.
Gully's boat, a 38-foot GAC, was driven by Sean Clancy, his observer was Justin Pick and his navigator was Tom Whitham. Haig was towed by a 43-foot Nordic, driven by Randy Davis as Dennis Hall served as observer and Steve Davis as navigator.
The race bills itself as the "World's Greatest Ski Race," and this year fulfilled every expectation as the boats and their skiers finished less than one-half second apart.
The participants ski from Long Beach to Catalina Island and back, and the fastest times translates into better than 70 miles per hour the entire way.
Water skiers from around the globe come to participate. This race has notoriety because of the number of participants, and because it is the only open-ocean ski race regularly scheduled anywhere in the world. It is an especially unique challenge to compete across 62 miles of ocean. It is highly coveted and followed around the ski racing world.
This year's race marked its 70th annual race.
Among the skiers was Rachael Stapleton, an Australian skier competing in the woman's category. It's one thing to ski around Catalina but completely another to come back and visit.
According to Ray Jones, of Long Beach Yacht Sales, Stapleton had competed in the event many times before and "always wondered about the big white building" as she circled the bay.
Stapleton won the Woman's Division of the race
Stapleton was towed by "Bad Bones," a 42-foot Fountain, driven Jody Cambell. Her husband Darren served as the observer and Jason LaBahn was her navigator.
After the race, Jones said Campbell agreed to bring them back to Catalina.
Jones said it was "pretty cool" that Rachael and Darren went back to Catalina to spend a few days after the race. Jones said they absolutely loved the place and were very happy they decided to visit.