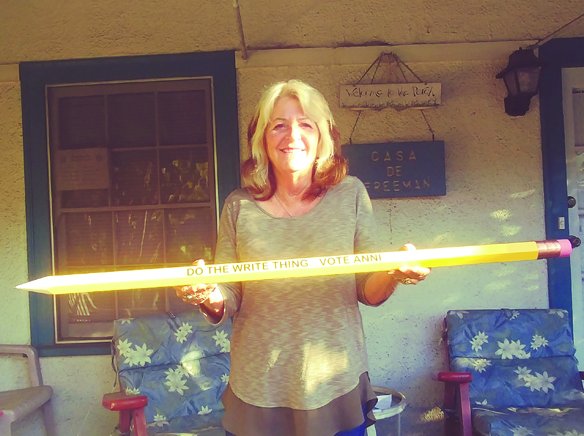 The first woman ever to elected mayor by the voters on Catalina Island has been re-elected to a new, two-year term, according to the official results released on Tuesday. "I'm elated," said Mayor Anni Marshall, who quickly added she is hopeful progress can be made in her new term.
Marshall had expressed concern earlier in the campaign when, by a series of quirks, she was not allowed on the "official" ballot. She quickly generated sufficient documentation to earn a spot on the ballot, but her supporters would have to "write-in" her name, which makes any election inherently more difficult.
With the help of her husband Billy, Marshall had a number of super huge pencils made and focused her campaign around them. It worked.
Marshall is not the first female Mayor as Irene Strobel served in 1987-88 but was selected by other members of the city council under a different form of government. (See Editor's Notebook, page 4.)
Marshall said Wednesday she was proud to think that the voters of Avalon re-elected her because they believe she was "doing a good job." "During the campaign, there was agreement on some major issues," said Marshall, so "I believe we all want the same things."
For starters, Marshall said it is clear, both from candidate statements and from public reaction, that the people of Avalon want "quality and dignified housing and a sustainable source of clean water." Other priorities will be to tackle "transportation issues," including traffic, parking and noise, she said.
In addition, Marshall said it was evident during the campaign that city needs to improve its relationship with the Island Company, which she acknowledged has become a bit fractured for a variety of reasons.
Finally, Marshall said she planned to renew her efforts to have a small piece of land near the school dedicated to a "dog park." "By golly, Avalon needs a dog park," she said, giving responsible pet owners a place for their dogs and their owners to relax and have fun. "We've made some progress on the issue," she said, but admitted "we've got a ways to go."
Marshall was sworn in Tuesday at the city's council meeting.