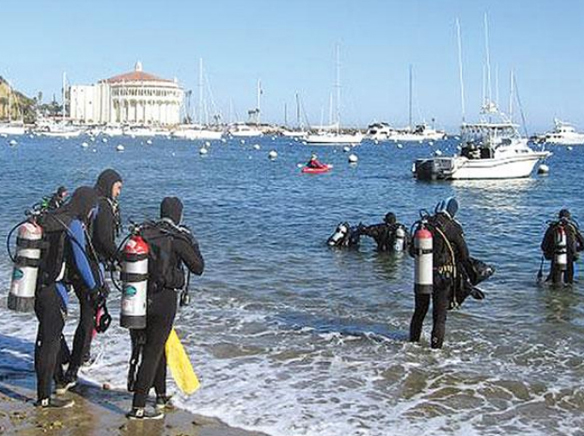 It's the one time of the year when hundreds of divers congregate from all over southern California on Catalina Island and actually pay to dive below the surface to clean up the harbor and other areas.
The underwater world around Catalina Island is legendary, yet the harbor that brings a million visitors a year to visit the Island attracts some of the trash that comes with them.
Each year, divers who enjoy the sport and treasure the island's waters gather to clean it up.
USC's Catalina Hyperbaric Chamber and Wrigley Institute for Environmental Studies–Catalina Conservation Divers will host Catalina Island's 37th Avalon Harbor Underwater Cleanup, one of the largest annual dive events in Southern California.
This year, the event will be held February 24. Early registration through February 15th is $55; day-of registration is $65; non-divers can register for $30.
The event began in the 1970s in an effort to cleanup Avalon Harbor, and this event is the only time diving is permitted in the Harbor.
Southern California divers have made the Avalon Harbor Underwater Cleanup one of their premier social events of the year.
Divers retrieve trash and lost items from Avalon Harbor, and revel in the warm friendly atmosphere of Catalina Island. Last year, approximately 494 participants recovered 5,200 pounds of trash. Proceeds from the event will benefit USC's Catalina Hyperbaric Chamber and Wrigley Institute Scientific Diving Program.
If interested in volunteering to help with other aspects of the event, email wies-ccd@usc.edu.
For any other queries, visit the website at dornsife.usc.edu or call 310-510-4020.